Sports
India trounced Argentina to move an inch closer to semis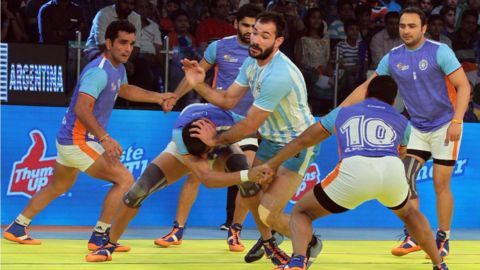 India moved an inch closer to book their semi-final berth after thrashing Argentina in Group A match of the 2016 Kabaddi World Cup.
The host team won 74-20 with the help of Ajay Thakur's 14 and Rahul Chaudhari's 11 match points as India inflicted six all-outs on Argentina.
For the South American team, Nahuel Villamayor scored eight crucial raid points.
In context:
2016 Kabaddi World Cup - Day 9 Updates!
Iran vs Japan

Japan gave Iran a tough fight, but failed
Japan went down fighting against Iran, who went on to win their fourth match in Group B.
Iran won the match by 38-34 margin and have secured their place in the semi finals.
Trailing by 19-9 till half-time, Japan bounced back and improved their game in the second half and even managed to get the Iranians all-out for the first time in the tournament.
Australia vs Korea

Korea continued their winning streak; defeated Australia
Korea have secured their place in the semi-finals as they defeated Australia in the Group A match.
An all-round dominant performance by the Koreans gave them a win of 65-23; continuing their unbeaten run at the tournament.
Dong Gyu Kim and Cheol Gyu Shin scored 11 and 10 raid points for Korea, respectively.
Korea will face England in their final group match.
Love Sports news?


Stay updated with the latest happenings.
16 Oct 2016

India trounced Argentina to move an inch closer to semis
India to face England next

India will face England in their next group match on 18 October 2016. Having won last three of the four matches, India looks in a superb form and it will not be a difficult task for them to defeat England and book the semis spot.
Points table

Iran, Korea continue their supremacy
Continuing their winning streak at the tournament, Iran and Korea are on the top spot of the points table in their respective groups.
With 20 points each, Korea and Iran are at first place in Group A and B respectively.
Korea is followed by India, England and Bangladesh.
In Group B, Japan is on the second spot and Thailand on the third place.
Today's fixtures

In the only Group A match today, Korea will face England. In Group B clashes, Thailand will meet United States of America while Japan will be up against the Kenyan team.