Sports
7 FIFA officials arrested on graft charges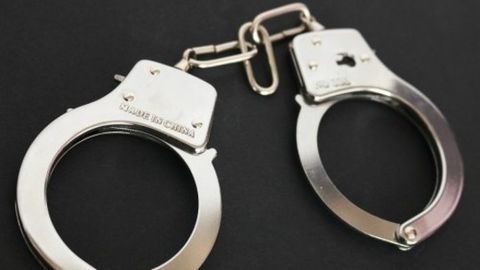 Swiss law-enforcement authorities took 7 leading members of FIFA into their custody.
The members had gathered at a Zurich hotel, ahead of a presidential vote this week.
The arrests were made at the instance of US authorities.
The US justice department has charged these officials & promoters from across the world with offences like racketeering, fraud and money laundering conspiracies.
In context:
FIFA's graft history
18 Nov 2010

Two FIFA executives suspended
2 FIFA officials were suspended over allegations of corruption in World Cup bids.
Nigeria's Amos Adamu and Tahiti's Reynald Temarii will now not take part in the voting process to decide the host of the 2018 and 2022 football World Cup.
This came after claims were published in The Sunday Times, that these executives had solicited bribes for voting in a candidate's favour.
30 May 2011

Qatar 'bought' the world cup: FIFA General Secretary
In an email, FIFA general secretary Jerome Valcke had suggested that Qatar "bought" the 2022 World Cup.
Qatar's candidate for FIFA's presidency, Mohamed Bin Hammam, was suspended by the governing body over bribery charges.
He had allegedly offered the Caribbean football officials up to $1Mn to secure their votes for the presidential election.
Love Sports news?


Stay updated with the latest happenings.
30 Mar 2012

FIFA sets up 2-chamber ethics committee
According to FIFA chief Sepp Blatter, one part of the committee would act as an investigative arm, while the other would judge the cases brought.
The investigatory chamber would be chaired by US lawyer Michael J Garcia.
But there was no decision to reopen investigations into the 2018 & 2022 World Cup bids.
17 Oct 2014

FIFA refuses to publish reports of Michael Garcia
Citing legal reasons, FIFA's chief refused to publish its report into the alleged corruption in the World Cup bidding process.
FIFA's ethics judge, Joachim Eckert had received ethics investigator Michael Garcia's report a month back.
A number of high-ranking FIFA officials like UEFA president Michel Platini and FIFA presidential candidate Jerome Champagne have demanded the reports to be made public.
20 Nov 2014

FIFA widens access to World Cup report
Ethics judge Joachim Eckert had earlier published a 42-page summary of the 430-page report submitted by Garcia on the 2018 and 2022 World Cup bidding.
The duo met after Garcia objected to the summarized report and claimed that he had been misinterpreted.
Following this, the ethics committee had promised to widen the pool of people with access to the full report.
28 May 2015

7 FIFA officials arrested on graft charges
Love Sports news?


Stay updated with the latest happenings.
Did you know?

For the 2014 World Cup, FIFA forced Brazil to remove its ban on booze at soccer matches. FIFA successfully pressured Brazil into passing a 'Budweiser bill', allowing beer sales during matches
16 Mar 2016

FIFA admits World Cup venue votes sold, seeks compensation
FIFA has confirmed the votes for holding the 2010 World Cup in South Africa were bought.
FIFA revealed that Chuck Blazer and Jack Warner had engineered the $10 million payoffs.
FIFA submitted a claim to the U.S. Attorney's Office in New York that sought a huge share in compensation from "more than $190 million already forfeited" by soccer and marketing officials".