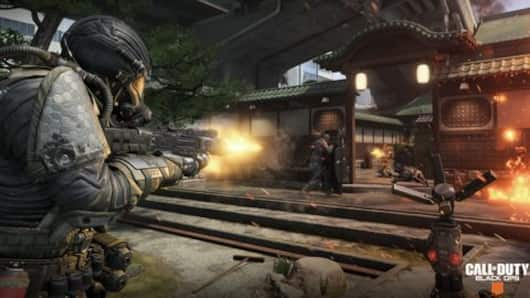 #GamingBytes: 'Black Ops 4' is getting rain, night map versions
Call of Duty: Black Ops 4 has maintained popularity in the gaming community after a successful release.
Although its Battle Royale, Blackout, is attracting the limelight, the multi-player mode holds a dear place among old school gamers.
To keep interest peaked, Treyarch will keep on releasing new post-launch content and according to data miners, the studio is launching two map variants.
Read it here.
The data miners work their magic
Credits:
The two map variants, that data miners discovered, are night and rain versions.
Digging through Treyarch game files, the data miners discovered the two variants which came with images as well as gameplay videos.
While we normally caution readers to take leaked files with a pinch of salt, the presence of the gameplay videos pretty much confirms, that map variants will be added eventually.
What are the map variants we see?
Data mined files have turned up two variants, one in Seaside, and the other in Firing Range.
Seaside, the Mediterranean town, is shown to have rain against a picturesque summer backdrop portraying a sunset.
On the other hand, Firing Range, the map from the previous three Black Ops games, is getting a makeover with the introduction of the brand new night mode.
Love Sports news?
Stay updated with the latest happenings.
Yes, notify me
How will the variants affect gameplay?
Credits:
The night variation in Firing Range is bound to adversely affect visibility, thus making spotting players much more difficult. Notably, night vision goggles could be included to aid a balanced gameplay.
More interesting is the rain variation. The sound of rainfall could mask sounds of movement, allowing players to move undetected.
However, rain would affect visibility, and splashing sounds could give away your positions.
When are the map variants coming out?
Although the existence of the alternate maps has been confirmed, we are unsure when and how Treyarch will roll them out.
These maps should ideally be part of the free seasonal updates. However, they could also be made part of a community event.
If developers are feeling particularly discriminating, the variants would be made exclusively available to premium season pass holders.
Please provide download link of the game below the article.
Asked 2018-11-26 17:36:57 by Sachin Kumar
Answered by NewsBytes
Dear sir/madam/other we already hyperlink the game we are writing about in our timelines which will redirect you to the official website of the game. You can download/purchase/access the game from the official website by clicking on our provided hyperlink, wherein a new window will open taking you to the pertinent website. Thank you and follow NewsBytes for more gaming related news.