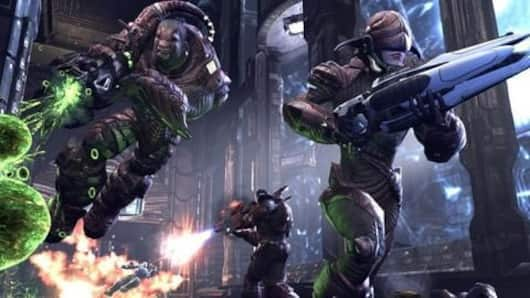 #GamingBytes: Unreal Tournament 4 officially canceled by Epic Games
Epic Games cemented its space in the gaming community's spotlight with the introduction of Fortnite Battle Royale.
This is unsurprising since the free to play model of the game made it Epic's goldmine.
However, other Epic game titles have taken a backseat and the latest version of Unreal Tournament, one of Epic's most popular games from early days, has been officially cancelled.
Read here.
Epic has also cancelled Paragon, another online multi-player arena game
Apart from the upcoming Unreal Tournament getting cancelled, Epic also cancelled its free to play online multi-player arena game, Paragon. Notably, Fortnite's Save the World mode is not very popular among fans either, prompting Epic to channel most resources to Fortnite Battle Royale.
Unreal Tournament, first revealed in 2014, was eagerly anticipated
Credits:
Unreal Tournament 4, the upcoming game was being eagerly anticipated by fans like me who grew up with Epic's revered title.
It was to be the ninth addition to the first-person shooter franchise and would have been the first game since 2007's Unreal Tournament III.
First revealed in 2014, it was supposed to bring back modes like Deathmatch, Duel, Team Deathmatch, Capture the Flag.
Love Sports news?
Stay updated with the latest happenings.
Yes, notify me
Epic's boss strikes the final blow
Unfortunately for fans of the game, Tim Sweeney, Epic's boss has confirmed that the game is no longer in active development.
He said although the game remained available in the store, it was no longer being developed.
Further, he outlined Epic's plans to work with GOG (Good Old Games) to bring the classic titles back to the store in all their original glory.
Reason for cancellation: Astounding popularity of Fortnite
Credits:
While the news of cancellation is sad, it is not surprising.
Considering the astounding popularity of Fortnite, it makes sense for Epic to allocate all the resources and divert them there.
Fortnite is Epic's biggest money maker and has been instrumental in helping the company expand to the extent that it is opening a digital store to combat the popularity of Steam.