History: Cristiano Ronaldo scores a milestone goal for Juventus
Sports
Cristiano Ronaldo is at it again. The Portuguese marksman has added a new feat to his crown of achievements by scoring a milestone goal for Juventus in their Serie A match against city rivals Torino.
Ronaldo scored the only goal in the match which has seen Juventus remain unbeaten and on the top of the table with 46 points, 11 points above second-placed Napoli.
Milestone
What is the milestone Ronaldo has created?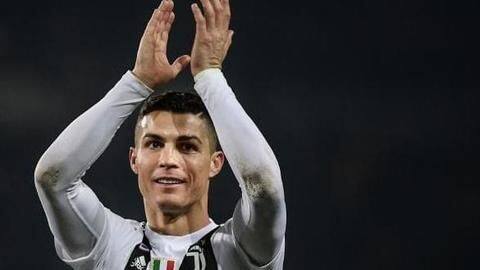 Ronaldo's goal, coming from a spot-kick, marked the 5000th goal Juventus have scored in the Serie A.
No other team has been able to reach as many goals in Serie A as Juventus, who have taken 15 years to reach from their 4000th to 5000th goal.
This was CR7's first Turin derby, and he had earlier made a fine effort before scoring.
Records
Ronaldo's other records with the Italian giants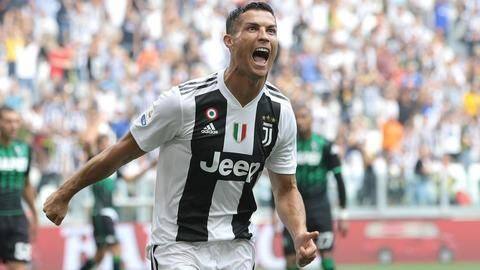 Ronaldo is the fastest man in Juventus history to reach 10 goals, (16 matches).
He has also seen his worst Champions League goals tally this term, scoring just one in the group stage, his lowest tally in 10 years.
When Juventus bought him for €100m, he became the most expensive player ever in the Serie A, and also the costliest 30+ player ever.
Match details
How did the match pan out at Turin?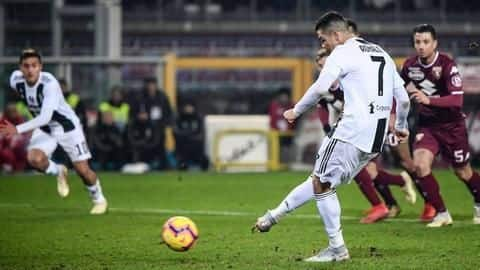 Usual goalkeeper Wojciech Szczesny was given a rest by Allegri in favor of Mattia Perin,
The match was much tighter than expected, as after turning away Ronaldo's chance, Torino themselves found a great opportunity to score, but were not on target.
Then a penalty was awarded in the 70th minute when Mario Mandzukic was fouled.
Ronaldo scored, and is currently the league's highest scorer.
Twitter Post
Here are Juventus' milestone scorers