Sports
Chicago cubs beat Cleveland Indians, force Game 6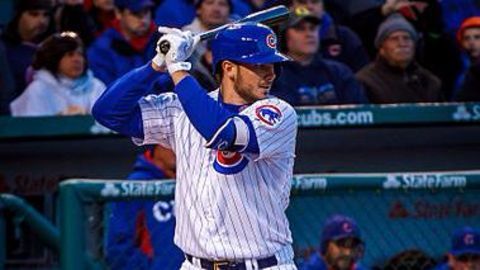 The Chicago Cubs beat the Cleveland Indians 3-2 in game 5, in a 'best of seven playoff', to keep their World Series hopes alive.
Cubs now trail Indians 3-2, ahead of the fame six on Tuesday.
Kris Bryant's fourth-innings home run proved decisive for the Cubs who have not won the World Series in past 108 years, since 1908.
In context:
Major League Baseball : World Series 2016
Summary

What is the World Series?
World Series is the baseball championship series played between the champions of the American League and the National league.
Played annually, the world series or the 'Fall Classic', was first contested in 1903.
With 27 titles, New York Yankees won it the most number of times.
The 2015 World Series was won by American League champion, Kansas City Royals who beat New York Mets.
World series in numbers

Of the 111 World Series contested over the years, 64 were won by the American League champions and 47 were won by the National League.
Love Sports news?


Stay updated with the latest happenings.
2016 World Series will be played from 25 Oct-2 Nov, between American League winners, Cleveland Indians and the National League champions Chicago Cubs.
Games 1,2,6, and 7 of the total 7, will be hosted by the Indians in Cleveland, Ohio.
Indians gained this home-field advantage when American League won the MLB (Major League Baseball) All-Star game.
Cubs will host 3, 4, and 5 games.
Team history

The Chicago Cubs
Chicago Cubs, initially known as the white stockings were founding members of the National League in 1876.
Their home games are played at Wrigley Field, Chicago.
They came to be called 'cubs', in reference to abundance of young players. It was adopted as franchise's official name in 1907.
They are 17-time National League champions and won two World Series - in 1907 and 1908.
Details

The Cleveland Indians
Cleveland Indians have been part of the American League since its founding in 1901.
They play at Progressive Field in downtown Cleveland, Ohio.
Indians won two World Series titles - in 1920 and 1948. They have the second longest World Series championship drought next only to the Chicago Cubs.
Cleveland Indians are 6-time champions of the American League.
01 Nov 2016

Chicago cubs beat Cleveland Indians, force Game 6
Love Sports news?


Stay updated with the latest happenings.
03 Nov 2016

Chicago Cubs win the World Series ending a 108-year wait
Chicago Cubs won the World Series 8-7 beating Cleveland Indians, ending the longest title drought, of 108 years.
Lovable losers for generations, the Cubs rallied from a 3-1 series deficit to victory in game 7.
US President Obama, supporter of Chicago city rivals the Chicago White Sox, tweeted, "It happened: @Cubs win World Series. Want to come to the White House before I leave?"