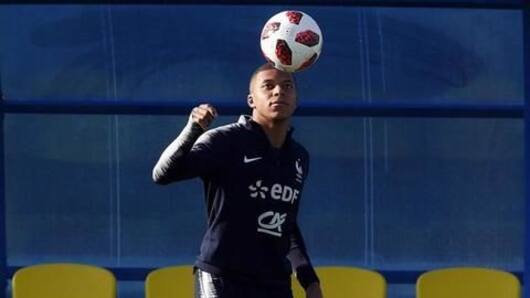 Happy Birthday Mbappe: Here's looking at Mbappe's career till date
Every now and then, there comes a time when a youngster comes along and forces the world to put their eyes on him and watch in wonder at what he does: Kylian Mbappe has done the same.
Mbappe turned 20 today, and he has already achieved what many only dream of.
Here's a look at his career till date.
What have you done by 20?
While most 20-year-olds grind it out in universities or look for odd jobs, Mbappe has already taken the world by storm.
He became the second-most expensive footballer when PSG bought him from Monaco for €180 million.
He won the World Cup becoming the only teenager after Pele to score in the final.
He has also won two Ligue 1 titles and has scored four top-flight goals in 13 minutes.
Mbappe is definitely the future megastar of football
While the world was busy talking about Neymar and Griezmann taking over Ronaldo and Messi's position as world football's ultimate star, Mbappe let his football do the talking and has become the forerunner to the show with his brilliant performances.
The great thing about him is that when the world is at his feet, his feet are firmly on the ground.
Love Sports news?
Stay updated with the latest happenings.
Yes, notify Me
Will Mbappe go down along with his speed?
Like every successful person, the French international has earned his detractors, and they, as usual, have come up with an opinion: he will be nothing when his speed goes away.
Well, he is just 20, and his speed is not going away for at least seven to eight years.
And in that period, Mbappe will also be changing his style and understanding football better.
Here's a look at Mbappe's stats till date
In 2018-19, the French sensation has managed to score 12 goals in 11 league appearances already, whereas, he managed 13 goals from 27 league appearances last season.
He also has three goals from six Champions League appearances this term, taking his total goals tally to 13 from a mere 24 appearances.
In 28 appearances for his national side, the 20-year-old boasts of 10 goals.
The numerous honors and achievements of Mbappe
Mbappe has already been made a part of the Champions League Team of the Season (2016-17) and made a place for himself in the FIFA FIFPro World XI (2018).
He has won the 2017 Golden Boy award, was placed fourth (ahead of Messi) in the 2018 Ballon d'Or rankings, was awarded the Silver Ball at the 2018 World Cup, and has won the 2018 Kopa Trophy.
Where did Mbappe play before PSG?
Asked 2018-12-20 17:31:46 by Vihaan Jindal
Answered by NewsBytes
Mappe was with Monaco before joining PSG in 2017.
Are reports of rifts between Neymar and Mbappe true?
Asked 2018-12-20 17:31:46 by Ishan Kadam
Answered by NewsBytes
Most are speculations, as we have seen the two get beautifully on the pitch and have great fun with each other. Even if there were problems, they are surely sorted by now.
What did Mbappe achieve at Monaco?
Asked 2018-12-20 17:31:46 by Trisha Chavan
Answered by NewsBytes
He helped Monaco win their first Ligue 1 title in 17 years.
What have other players said about him?
Asked 2018-12-20 17:31:46 by Sai Malhotra
Answered by NewsBytes
France legend Nicolas Anelka compared him to Ronaldo from the 1996 World Cup and Dutch defender Stefan de Vrij says Mbappe is the most difficult opponent he has ever faced.