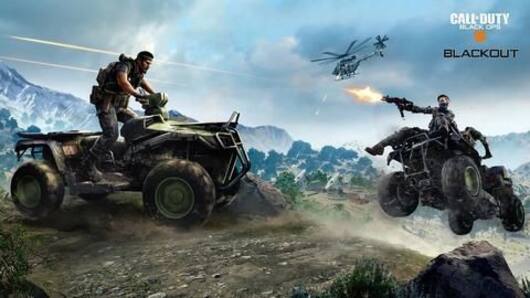 #GamingBytes: 'CoD: Black Ops 4' Blackout changes armor system
Call of Duty: Black Ops 4 has been much praised for introducing Blackout, its take on the Battle Royale genre.
While Battle Royale rules dictate that players must engage in firefights to win, health and armor are essential to come out of these firefights alive.
However, while health can be restored in-game, armor could not be, until now.
Read about the changes here.
Players initially expressed dissatisfaction with armor
Credits:
Before the recent updates, the armor in the game could not be regenerated.
Despite blocking damage in firefights, it lasted for just one encounter. This often forced players to avoid confrontation altogether.
Instead, they would remain hidden and preserve this defensive resource until the last possible moment.
Naturally, this slowed the Battle Royale matches at the start and made action frenzied at the end.
The first set of changes brought to the armor
Initially, armor was strengthened in-game and a repair feature was added in the form of armor plates.
They would function like bandages and repair sections of armor that were damaged in firefights.
Notably, these armor plates could be looted from the ground, but a lower spawn rate meant that the best chances of getting armor plates were from the enemies you managed to kill.
Love Sports news?
Stay updated with the latest happenings.
Yes, notify me
Initial changes led to gameplay problems in Blackout Battle Royale
Credits:
However, these changes led to some gameplay problems in Blackout Battle Royale.
Firstly, the Paladin sniper rifle, capable of shredding through armor was nerfed unintentionally due to the new armor system.
Secondly, the armor was too easy to repair using armor plates, allowing players to quickly restore armor mid-fight.
The studio, Treyarch immediately issued another update in order to address, and rectify these issues.
The second change fixed all problems, balanced gameplay
Update 1.10 brings a host of armor changes, which balances the gameplay.
Firstly, all armor now has equal durability, preventing level 3 armor from being overpowering.
The Paladin sniper nerf has been fixed. The armor plates, which a player can carry, has been reduced to 5 from 10.
Notably, the time to apply armor plates has been increased from 2 seconds to 3 seconds.
New armor system allows aggression but advises caution
The new armor system is going to make the gameplay more balanced, as aggressive players won't get unnecessarily punished for damaging armor. At the same time, players have to balance out their aggression with caution, since armor regeneration is possible but now more complicated in-game.
When did the armor update release for Blackout?
Asked 2018-12-22 00:23:11 by Shreya Nair
Answered by NewsBytes
The armor update was part of the 1.10 update that was rolled out by developers Treyarch on December 19.
Can I play Blackout battle royale?
Asked 2018-12-22 00:23:11 by Muhammad Chatterjee
Answered by NewsBytes
Yes if you own the CoD Black Ops 4 game you can play the Blackout battle royale. Otherwise, sorry the only battle royale you can play across platforms for free is Fortnite.
Is Blackout the best battle royale?
Asked 2018-12-22 00:23:11 by Dhruv Malik
Answered by NewsBytes
I wouldn't call it the best since Firestorm, Battlefield V's battle royale has not launched yet But critics have called it a more polished PUBG and the updates are as frequent as Fortnite, so perhaps it is one of the best right now.
How much does Call of Duty: Black Ops 4 cost? Where can I buy it?
Asked 2018-12-22 00:23:11 by Arjun Mistry
Answered by NewsBytes
CoD Black Ops 4 costs around Rs. 3900 in India and you can purchase it from the link we have provided in our timeline.