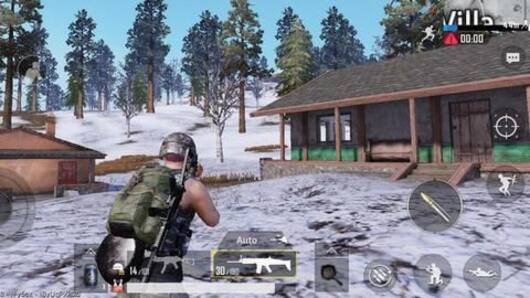 #GamingBytes: Five PUBG Vikendi tips to help you win
PUBG is keeping excitement in its intense Battle Royale alive by introducing a new snow map to celebrate the onset of winter.
Titled Vikendi, the 6km by 6km map is covered in snow which is significantly changing gameplay. You must be eager to win your own chicken dinner among the best.
Here, we bring five best PUBG Vikendi tips to help you win.
Learn to get close and personal with foes
After several unsuccessful rounds of Vikendi, what I have noticed is that shotguns and SMGs tend to spawn more than assault rifles or snipers.
Therefore, early and even in the mid-game, you have to get closer to your enemies in order to take them out.
Learning to shoot calmly and steadily in close quarter combat is your ticket to survival on this map.
Check your surroundings and your mini-map
The snow leaves footprints, so you don't just have to rely on your mini-map to guess your enemy's location in Vikendi.
Be mindful of your surroundings and footprints will alert you about enemy presence.
However, keep in mind that prints remain for 10 minutes while the entire Battle Royale run-time on Vikendi is 20 minutes, so the prints can be pretty old and unhelpful.
Love Sports news?
Stay updated with the latest happenings.
Yes, notify me
Dress in white or put on something bright
Clothing is the basic camouflage you can try in the PUBG map. We suggest wearing something white for Vikendi since it is a snow map.
If you do not have anything white, put on fluorescent colors, something which will appear white at a distance.
Obviously, do not put on bright shades like purple which will make you stand out against the snow.
Use cover in the open spaces
The Vikendi map has vast open expanses without much cover.
In case of firefights there, we suggest heading for the nearest tree or rock, instead of encountering the enemy in the open.
While the trees provide excellent cover, while peeking and returning fire, rocks are completely bulletproof and will shield you not just from enemy bullets but enemy sight as well.
Minimum movement in the final stages
We always advise minimum movement in the final stages of the game since the number of players is lesser, the circle is small and your chances of detection is high.
However, it is especially important in Vikendi.
Being a snow map, you stand out if you move, making yourself an easy target to the waiting enemy.
Wait patiently and move stealthily in the end.
Which are the best guns for Vikendi?
Asked 2018-12-22 18:52:50 by Sanvi Mistry
Answered by NewsBytes
Ideally, Vikendi would be a sniper's paradise, considering the snow makes seeing players very easy and vast open expanses mean there is no cover. However, without a sniper, opt for assault rifles with good scopes.
Which is the best SMG to use?
Asked 2018-12-22 18:52:50 by Parakram Sengupta
Answered by NewsBytes
UMP9 is the best SMG for Vikendi. Since you have to rely on SMGs a lot early and in the mid-game, pick up UMP9 which requires lesser attachments than the Vector and holds more bullets.
Which are the best landing spots in Vikendi?
Asked 2018-12-22 18:52:50 by Vivaan Singh
Answered by NewsBytes
The Castle is one of the best spots if you don't mind some action. Hot springs is great for quiet looting, but land towards the center as shrinks are much faster on Vikendi.
Is Vikendi out on PUBG Mobile?
Asked 2018-12-22 18:52:50 by Reyansh Das
Answered by NewsBytes
Yes, if you have updated your game, the Vikendi snow map is available for play on PUBG Mobile.