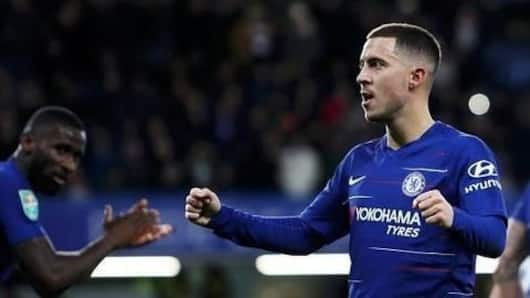 Real Madrid could give Chelsea two players for Eden Hazard
Since the 2018 FIFA World Cup, questions have been raised over Eden Hazard's willingness to continue with Chelsea for long after his hugely impressive performance with Belgium in the tournament.
While Hazard himself had shown his admiration for Real Madrid earlier, now Los Blancos reportedly want to give Chelsea Mateo Kovacic and Isco to acquire the Belgian's signature.
Will the deal go through?
Real Madrid suffering from decision to not replace Ronaldo
When Cristiano Ronaldo left Madrid, it was expected that Los Blancos, staying true to their nature, would be spending heavily to acquire a big name who could carry on delivering in terms of goals like CR7.
However, they moved forward without him and suffered a miserable start to the 2018-19 season, which still finds them at the fourth spot on the La Liga table.
Kovacic says he is satisfied with staying at Chelsea
Croatian midfielder Mateo Kovacic, currently on a one-year loan spell with Chelsea from Real Madrid, has said that he is interested in a permanent move to the West London outfit if possible.
Since joining Chelsea, Kovacic has become an integral part of Sarri's line-up, which he has complemented with his impressive performances.
Kovacic believes the move was a great decision in his career.
Love Sports news?
Stay updated with the latest happenings.
Yes, notify Me
Hazard had earlier voiced his interest in jumping ship
In an interview in October, the talismanic Hazard had spoken of his desire to one day represent Los Blancos, saying that it had been a childhood dream of his.
However, he had added that he did not want to pull a Courtois, who forced Chelsea to sell him by not appearing for training.
Real Madrid's temptations are things very few can resist.
Evaluating the chances of the deal happening
Given that Isco is presently not at his best with the Madrid outfit, Real Madrid are unlikely to benefit financially from the deal.
They surely understand the value of players like Isco and Kovacic in the current football market, and only an additional amount of money along with the two players could get them Hazard's signature, if the deal materializes at all.
How many goals has Hazard scored for Chelsea so far?
Asked 2018-12-26 20:31:53 by Angel Balasubramanium
Answered by NewsBytes
Hazard has managed to net in 99 times for Chelsea in 321 appearances for the club.
Can Hazard be an ideal replacement for Ronaldo?
Asked 2018-12-26 20:31:53 by Tejas Gupta
Answered by NewsBytes
No, Hazard is a playmaker and not that frequent in netting goals himself. Real Madrid should ideally look for a center forward.
How many appearances has Kovacic made for Chelsea this season?
Asked 2018-12-26 20:31:53 by Hemant Patel
Answered by NewsBytes
Kovacic has made 22 appearances for Chelsea in all competitions this season.
Will Bale be able to carry Real Madrid through?
Asked 2018-12-26 20:31:53 by Diya Tambe
Answered by NewsBytes
When in form, Bale is phenomenal, but he is hardly as prolific as Ronaldo. Additionally, he is very prone to injuries.