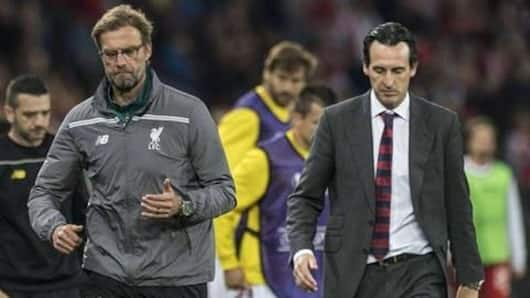 Unai Emery tips Liverpool to match Arsenal's 2003-04 'Invincibles' record
Ahead of their match tomorrow, Arsenal manager Unai Emery has showered praises on Liverpool, saying that they possess the potential to match the record of Arsene Wenger's Invincibles, who won the 2003-04 Premier League without suffering a single defeat.
Liverpool put up a phenomenal display against Newcastle on Boxing Day, thrashing them 4-0 at Anfield.
Their chances of winning the league are looking high.
Emery recalls his Sevilla defeating Liverpool in Europa League final
Emery recalled the 2015-16 Europa League's final match between his Sevilla and Klopp's Liverpool, a fixture which the Reds lost and Sevilla became champions for the third consecutive year.
However, the Spaniard praised Liverpool's progression since then, comparing Arsenal being out of the Champions League like Liverpool was, and how Liverpool's progress can become an example for his team to follow.
Emery on why Liverpool will be a challenge on Saturday
Though Arsenal managed to hold the Reds to a 1-1 draw when they met at the Emirates Stadium earlier this year, the former PSG manager believes it will be difficult against them tomorrow at Anfield.
Emery spoke of the boisterous support Liverpool receive at home, but said there are big names in his team who are used to playing in such big fixtures.
Love Sports news?
Stay updated with the latest happenings.
Yes, notify me
The Reds look unstoppable this season, all thanks to Klopp
Liverpool have been playing some of the best football in Europe this season, and their defense has been too strong for most clubs to penetrate.
Klopp's men have conceded just seven goals in the 19 Premier League matches they have played so far, and look unstoppable as of now.
Vigil van Dijk and Alisson Becker are the two players who have been their pillars.
Some interesting facts before Liverpool clash with Arsenal tomorrow
The two will be meeting for their 227th fixture, with Liverpool having won 86 matches and Arsenal 79, along with 61 draws.
Arsenal have failed to win their last five matches against Liverpool at Anfield.
Among Premier League teams in 2018-19, the Gunners have scored the most number of goals from outside the box (9), while Liverpool haven't conceded such a goal this term.
What is the points difference between Arsenal and Liverpool?
Asked 2018-12-28 14:37:09 by Shreya Rathore
Answered by NewsBytes
Arsenal (38) are 13 points behind Liverpool (51).
Who is the highest EPL scorer of the season?
Asked 2018-12-28 14:37:09 by Aadhya Patil
Answered by NewsBytes
Aubameyang (Arsenal) has scored the highest number of goals - 13. He is followed by Harry Kane and Mohamed Salah, with 12 goals each.
Who has provided the highest number of assists this season?
Asked 2018-12-28 14:37:09 by Divya Lobo
Answered by NewsBytes
Chelsea's Eden Hazard, with nine assists to his name. He has also scored 10 goals so far.
Who boasts of the highest number of clean sheets?
Asked 2018-12-28 14:37:09 by Diya Yadav
Answered by NewsBytes
Liverpool's Alisson Becker, with 12 clean sheets to his name.