Sports
Rabada's fiver helps SA win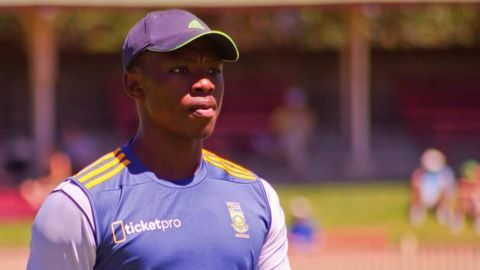 SA won the first test against Australia by 177 runs taking a 1-0 lead in the series. 22-year old Kagiso Rabada took five wickets for the visitors.
It was his fourth 'five wicket haul' for SA and the first against Australia. Debutant Keshav Maharaj got four wickets in the match.
In the second innings, Australia's Usman Khawaja was the top scorer with 97 runs.
In context:
Australia - South Africa 1st Test - Updates!
Details

First test began from 3 November 2016
The first test between South Africa and Australia has begun from 3 November at the WACA Ground in Perth.
Having white-washed Australia 5-0 in the home series last month, South Africa is high with morale and will look to continue the form in Australia.
However, both the teams remain equally matched for each other given their skills.
South Africa won the toss, decided to bat first

The Proteas' captain Faf du Plessis won the toss at Perth and decided to bat first. Keshav Maharaj would be making his debut for South Africa in the first test match.
Love Sports news?


Stay updated with the latest happenings.
Day 1

South Africa bundled out for mere 242 runs
Four wickets by Mitchell Starc and three by Jose Hazelwood helped Australia bowl out the visitors for 242 runs in the first innings.
Quinton de Kock and Temba Bavuma scored 84 and 51 runs respectively after losing their top order at 84 runs.
In reply, David Warner and Shaun Marsh put on 105 runs for the home team as the day ended.
Day 2

Warner missed century by three runs
Australian opener David Warner was sent back to pavilion by Dale Steyn for 97 runs. It was the first time that Warner got out at 90s in tests.
Vernon Philander and Keshav Maharaj then sent back the Australian team for 244 runs, with a mere two run lead.
SA lost two early wickets in second innings as they took their lead past 100 runs.
Day 3

Duminy-Elgar scored a century each
It was a JP Duminy and Dean Elgar's show on the day three at Perth as both went on to hit the fifth century of their careers and put on 250 runs at the third wicket.
Duminy scored 141 runs while Elgar scored 127.
By day's end, SA had a lead of 388 runs with de Kock and Philander on the pitch.
Day 4

SA piled on runs for Australia
With the help of Quinton de Kock's 63 and Vernon Philander's 73, the visitors put 540 runs on board and set a target of 539 runs to win for the hosts.
Australia lost four wickets for 146 runs as they started the massive run chase. Warner and captain Steve Smith scored 35 and 34 runs each as the day ended.
Love Sports news?


Stay updated with the latest happenings.
07 Nov 2016

Rabada's fiver helps SA win
Rabada named 'Man of the match'

Kagiso Rabada was given the 'Man of the Match' award for picking up seven wickets. At the ceremony he said, " I am very proud of my team. Australia have got a good batting line-up. I will be ready for Hobart if I get chosen"