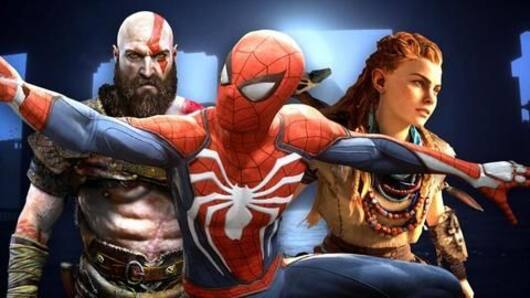 #ThatWas2018: Five best games of 2018
2018 was the year where we witnessed a major shift in the gaming industry.
As Battle Royale genre gained popularity, a lot of gamers asked if the old school single-player campaign games were dead.
A deafening answer from various developers replied 'No!' and they have proven it with some excellent titles that combine good storytelling with smooth gameplay.
Here're five best games of 2018.
Florence: A sweet love story for mobile gamers
Normally, I do not recommend mobile games, even lesser games about falling in love! But Florence is easily the best mobile game of the year.
A coming of age story about a young woman falling in love, Florence is a plethora of emotions told through interactive storytelling, soothing music and great visuals.
Bound to leave you teary-eyed, it is available for Apple and Android.
Spider-Man: The web crawler's amazing gaming journey
Insomniac made Marvel's Spider-Man for PS4 and it immediately became a hit among the gamers.
While the storyline itself was gripping featuring a version of the Sinister Six, what really stood out was the brilliant graphics and smooth gameplay.
Stylish and effortless movement within the game as we witnessed the iconic Manhattan skyline, sets this game apart in 2018's list.
Love Sports news?
Stay updated with the latest happenings.
Yes, notify me
Assassin's Creed Odyssey: Take a leap into immersive brilliant worlds
Ubisoft's latest Assassin's Creed Odyssey will have you hooked from the start as you begin as the Spartan king Leonidas.
The main game will let you play as Alexios or Kassandra and you can choose to be a male or female assassin, and decide to be ruthless or diplomatic.
The immense world of Odyssey brings massive land and naval warfare with enhanced graphics.
Red Dead Redemption: The Wild West presented with extreme accuracy
Rockstar's Red Dead Redemption 2 is perhaps the finest open-world Western, I have had the pleasure of experiencing.
With accurate renditions, and visual treats you play as Arthur Morgan and decide to make this outlaw ruthless or honorable.
Though slow moving, this game is rewarding and immersive to the extent that it never really leaves you, even long after the final chapter is over.
God of War: The redemption of Kratos and fantastic combat
God of War released only for PS4 and rebooted the entire series.
We finally got a Kratos who is redemptive and broken. Over the franchise's progress, the character had exuded rage and misogyny, becoming disliked.
However, here, his emotions overpower as he tries to ensure his son Atreus, grows up better.
Combined with fantastic combat sequences against fantastical creatures, this is 2018's best.
Is 'Red Dead Redemption 2' on PC?
Asked 2018-12-30 19:38:46 by Tejas Sengupta
Answered by NewsBytes
No, it is only on consoles at the moment.
Why is Fortnite and PUBG not on this list?
Asked 2018-12-30 19:38:46 by Aradhya Singh
Answered by NewsBytes
While they are both great battle royale games and Fortnite has been dominant this year, these games have better storylines and gameplay, not to mention better graphics, making them deserving spot holders on this list.
Is Florence the mobile game free to play?
Asked 2018-12-30 19:38:46 by Surabhi Sharma
Answered by NewsBytes
No, if you check, you will see Florence costs around Rs. 200 on the Google Play Store.
Will Red Dead Redemption get another game?
Asked 2018-12-30 19:38:46 by Aaradhya Mistry
Answered by NewsBytes
We don't know, for now, Red Dead Redemption 2 might get a sequel, but nothing has been announced yet. Follow our gaming news on NewsBytes to stay updated about the latest announcements.