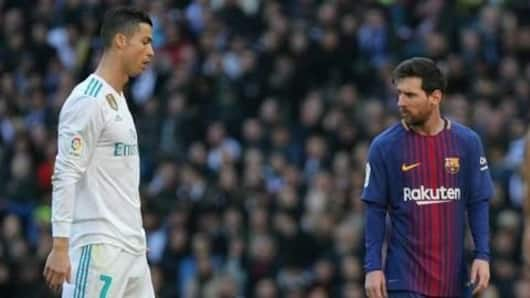 Lionel Messi becomes 2018's highest scorer, overtakes Cristiano Ronaldo
They might not have won the individual prizes this term, but when it comes to scoring goals, Leo Messi and Cristiano Ronaldo know they are virtually untouchable.
Yet again, the two phenomena have led 2018's goalscoring charts, with Messi registering 51 strikes, followed by CR7, who netted 49 times in 2018.
For the fifth consecutive calendar year, Messi has reached the 50-goal mark.
Ronaldo's historic goalscoring run comes to an end in 2018
Ronaldo's name will always reverberate among the greatest to have played the game.
CR7 had a phenomenal run going for himself since 2011, which finally stopped in 2018.
Ronaldo kept netting 50+ goals for seven consecutive years but fell one short of reaching the mark in 2018.
From 2011-17 he has scored 60, 63, 69, 61, 57, 55 and 53 goals every year.
Ronaldo took some time to adjust in Italy
After spending nine years at Real Madrid, Ronaldo did take some time to adjust to his new life at Juventus.
This might have taken a toll on his goals tally, but being the genius that he is, Ronaldo seems to have found his mojo once again, and is currently leading the Serie A top scorers' chart with 14 goals to his name.
Love Sports news?
Stay updated with the latest happenings.
Yes, notify me
Messi has changed his style, not his goalscoring nature
Leo Messi mesmerized us once again in 2018, finishing off 2017-18 as La Liga and Copa Del Rey winners with Barcelona.
He won the European Golden Shoe, becoming the only player ever to win it five times.
Though La Pulga has taken on a playmaking role for Barca, his goals tally has clearly not taken a dip, and 2019 looks like another bright year for him.
Here's a list of the top 10 scorers of 2018
The top 10 goal scorers of 2018 are Lionel Messi (51), Cristiano Ronaldo (49), Robert Lewandowski (46), Mohamed Salah (44), Harry Kane (42), Antoine Griezmann (40), Luis Suarez (38), Neymar (34), Cavani (34), and Mbappe (34).
On which years did Messi win the Golden Shoe?
Asked 2019-01-01 16:15:22 by Rakesh Malhotra
Answered by NewsBytes
Messi won the Golden Shoe in 2010, 2012, 2013, 2017, and 2018.
How many and when did Ronaldo win the Golden Shoe?
Asked 2019-01-01 16:15:22 by Angel Pillai
Answered by NewsBytes
Ronaldo has won four Golden Shoes in the 2007-08, 2010-11, 2013-14, and 2014-15 seasons.
Who is the current top scorer in Europe?
Asked 2019-01-01 16:15:22 by Vibhore Chatterjee
Answered by NewsBytes
Messi is leading the pack with 15 goals.
How many career goals have Messi and Ronaldo scored?
Asked 2019-01-01 16:15:22 by Ishan Mehta
Answered by NewsBytes
Messi has scored 584 career goals, while Ronaldo has scored 588 times.