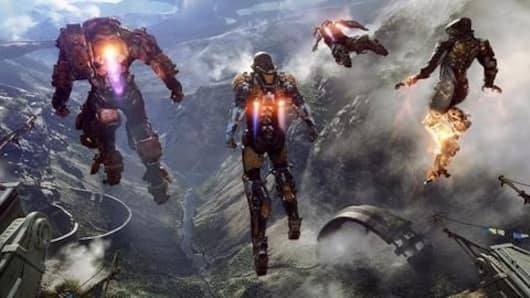 #GamingBytes: Five most anticipated games of 2019
We are at the start of a new year, and 2019 holds unlimited promises in store.
For gamers, 2018 was a huge year, with big titles and excellent gameplay stories arriving across platforms.
Blame my cheerful optimism, but from where I stand, 2019 looks like it will introduce several great new games.
Without much ado, we introduce five most anticipated games of 2019.
Harry Potter: Wizards Unite- A magical journey in 2019
Harry Potter: Wizards Unite is the upcoming game from Pokemon Go developers, Niantic.
It'll release for mobile gamers and will be an augmented reality game, where gamers have to look at their screen while moving around in the real world, to discover magical artifacts and creatures.
As we reported, the magical and real worlds will overlap, and gamers have to prevent the subsequent catastrophe.
Love Sports news?
Stay updated with the latest happenings.
Yes, notify Me
Mortal Kombat 11- Get in the mood for gruesome fatalities
Mortal Kombat 11 is the latest addition to the popular franchise from NetherRealm Studios. It releases on April 23 for PS4, PC, Xbox, and Switch.
While Mortal Kombat brings back favorite fighters like Scorpion and Sub-Zero, the combat mechanics seem to have improved further.
Nonetheless, the over the top action and violence is familiar to fans of the franchise, and makes the game anticipated.
Devil May Cry 5- Smoothest action combinations make game promising
Devil May Cry 5 by Capcom is coming on March 8 for PS4, PC and Xbox.
It is the latest addition in the DMC franchise and from what we see, the game is going to be introducing some new characters and brand new weapons.
What we are most excited about are the 'breakers' as well as the quick action combinations in-game, as per trailers.
Tom Clancy's The Division 2- Post-apocalypse goes to Washington DC
The Division 2 is arriving on March 15 for PS4, Xbox and PC.
The post-apocalyptic world will now move from New York to Washington DC, as players represent government operatives struggling to maintain peace in post-apocalyptic civil war situations.
The realistic map along with accurate shooting and action mechanisms have us eagerly awaiting the release of the sequel to the popular game.
Skull and Bones- Sail the high seas as a pirate
Skull and Bones does not have an official release date yet but will be available for PS4, PC and Xbox.
It is an upcoming Ubisoft title and gamers, who enjoyed the naval warfare in Assassin's Creed IV: Black Flag, are in for a treat.
The shared world historical pirate adventure has promised a realistic atmosphere and gameplay.
We have high hopes from this title.
Is Cyberpunk 2077 coming out in 2019?
Asked 2019-01-03 00:59:11 by Vibhore Rangarajan
Answered by NewsBytes
Cyberpunk 2077 should in all likelihood release in 2019 but since there is no official release date yet, we have not included it on this list.
What major reboot in game is coming in 2019?
Asked 2019-01-03 00:59:11 by Angel Chauhan
Answered by NewsBytes
Resident Evil 2 is being remade and will release in 2019, which should be big news for the fans considering the game's trailers look promising.
Are there horror games coming out in 2019?
Asked 2019-01-03 00:59:11 by Rishika Trivedi
Answered by NewsBytes
Yes, 2019 will see quite a few Lovecraftian games but we are most excited about Sinking City. It combines elements of detective games and horror games effortlessly.
Will new battle royale games come out in 2019?
Asked 2019-01-03 00:59:11 by Vihaan Patil
Answered by NewsBytes
Battlefield V's battle royale, titled 'Firestorm' will release in March 2019 according to reports.