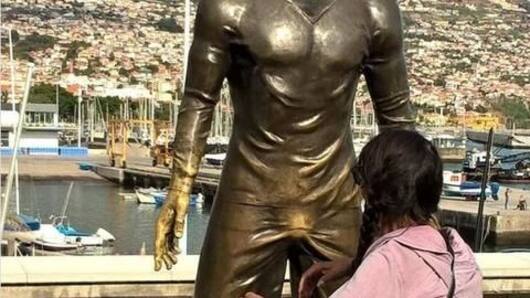 Cristiano Ronaldo's statue crotch rubbed multiple times, turns 'golden'
Fans of Portuguese footballer Cristiano Ronaldo has found a new obsession over his statue in Portugal.
Apparently, the bronze statue, which was erected five years ago, has been rubbed so much that the bronze has worn away, and the part signifying his genitals now look golden.
And, fans can't get their hands off the lustrous part.
Here's more on this.
Statue, 11 feet tall, was unveiled five years ago
In 2014, the 11 feet tall bronze statue of the Juventus player, created by Madeiran artist Ricardo Veloza, was unveiled at Ronaldo's Pestana CR7 hotel in Funchal.
According to the UK-based tabloid The Sun, the groin area has apparently been rubbed so frequently in the last five years, that the bronze has worn away.
The area implying his genitals now has a hard-to-miss shine.
CR7's genitals new fan-favorite, tourists bombard social media with pictures
It appears that the 'golden genitals' have become the new favorite among tourists and CR7's fans in Portugal.
Many tourists have taken to social media platforms to share their pictures with the statue.
And, the common thing among all of them isn't the soccer champion's statue but the people particularly pointing to his shiny genitals or actually touching and holding them.
Love Sports news?
Stay updated with the latest happenings.
Yes, notify me
When the bulge became a 'tad bit' apparent and shiny
Look at her smile
This is really funny. Female tourists can't get their hands off Cristiano Ronaldo's golden bulge bronze statue at Funchal, Portugal. For some, that will be a perfect gift for the New year. Lol! pic.twitter.com/Kbx6INxZaF

— Emmanuel Chibuzo (@emmafeast5) January 5, 2019
'They couldn't help notice the well-rubbed area between his legs'
John Rodgers, a tourist visiting the museum told media, "I just wanted a picture of him to send to my family. But as soon as I put on the family WhatsApp group, everyone started laughing. They couldn't help notice the well-rubbed area between his legs."
Previously, a bizarre bust of Ronaldo left fans in splits
The statue had raised eyebrows back when it was first erected, with people saying his crotch in the statue looked more defined than his face.
Moreover, his crotch is often in the news and billboards for his underwear brand CR7.
Also, last year, fans took a jibe when a completely bizarre, odd-looking bust of the player was unveiled at Madeira in Portugal.