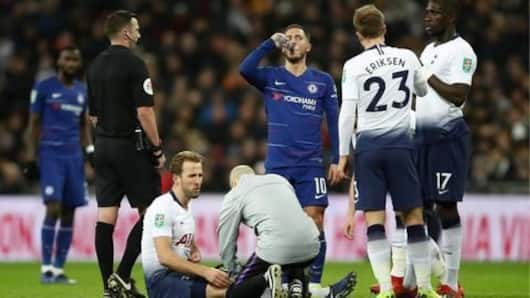 Maurizio Sarri and Mauricio Pochettino voice their displeasure with VAR
Video Assistant Referee (VAR) is one of the most revolutionizing changes, football has brought in recent years.
While some have been supportive of it, VAR has gained a few detractors along the way as well.
Maurizio Sarri (Chelsea) and Mauricio Pochettino (Tottenham) have both spoken out against it after a controversial decision helped Spurs defeat Chelsea in the Carabao Cup semi-final's first leg.
Details on the incident which sparked such comments
In the first half, Spurs were attacking when Harry Kane ran into Chelsea's penalty box with the ball, and Kepa Arrizabalaga lunged forward for the ball, toppling Kane instead.
While Chelsea believe Kane was offside, the referee passed on the decision to the VAR team, which said that Kane was not offside and Kepa had fouled him.
Kane scored from the penalty that followed.
Maurizio Sarri was furious with the decision
Chelsea manager Maurizio Sarri later said that the assistant referee had stopped while running, which left his defenders confused, with them presuming Kane was offside.
He also said that Chelsea's camera had clearly captured Kane being in an offside position, and added that the VAR's cameras must have been placed differently, thus judging the situation wrong.
Love Sports news?
Stay updated with the latest happenings.
Yes, notify Me
Pochettino, too, was dissatisfied with the way VAR was used
Tottenham manager Mauricio Pochettino, surprisingly agreed with Sarri, saying that winning in such a fashion is not something he enjoys.
The former Espanyol manager added that wasting five minutes for a single decision means VAR is not doing its job properly.
Pochettino also talked about many individuals being dissatisfied with the system since its introduction.
Interestingly, Kane agreed with the VAR decision completely.
VAR's impact on the Serie A was controversial
Last season, numerous Serie A managers had complained against VAR and the new system was accused of adding more confusion to decision-making than earlier.
The problem, some believe, is with the fact that the organizers of the tournament failed to provide adequate training to referees to use the new technology properly.
Even some VAR decisions in the 2018 FIFA World Cup were deemed problematic.
Mistake could have happened due to lack of experience
Since Premier League has still not taken to VAR, it can be concluded that English referees are still unsure of how to use the system and have not received the adequate training required.
"It's very strange in the EPL there isn't VAR and in the Carabao Cup there is the system", said Sarri.
Even he believes proper study of the system is required.
Which decisions are usually reviewed by VAR
Asked 2019-01-10 01:09:50 by Cheshta Pawar
Answered by NewsBytes
Goals, direct red cards, penalties, and mistaken identities are the decisions which can be referred to the VAR team.
Which was the first league to introduce VAR?
Asked 2019-01-10 01:09:50 by Angel Verma
Answered by NewsBytes
Australia's A-League was the first team that had introduced VAR.
When did Serie A and Bundesliga first use VAR?
Asked 2019-01-10 01:09:50 by Divya Mehta
Answered by NewsBytes
Both Serie A and Bundesliga began using VAR since the beginning of the 2017-18 season.
When is the next leg of the Carabao Cup semifinal between Chelsea and Tottenham?
Asked 2019-01-10 01:09:50 by Paridhi Bhatnagar
Answered by NewsBytes
Chelsea and Tottenham will again face each other, now at Stamford Bridge, on January 25.