AFC Asian Cup: India loses to UAE, important lessons learned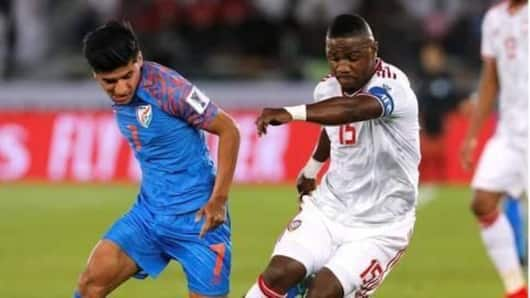 After starting their AFC Asian Cup campaign with a win, India suffered a setback and lost to UAE, slipping to the group table's second spot.
Goals from Khalfan Mubarak and Ali Mabkhout saw UAE clinch victory, and the Emiratis performed well in almost every sector.
So where did India go wrong? Which aspects of their game should be improved?
Let's discuss here.
In context
Things we learnt from India's loss to UAE
Stats
India were quite behind in terms of passing and possession
India managed just 34% possession, completing only 240 passes in the whole match, showing that they were clearly dominated by the hosts.
While India did put up a brave fight in the first half, they were quite overwhelmed when UAE started dictating the second half of the match.
The hosts, in stark contrast, had 66% possession and completed 470 passes.
Defenders
Indian defenders cannot be blamed for the loss
When a team loses, the blame is generally put on the defenders for their inability to guard the fort, but such cannot be said for India's loss last night.
India were pressing heavily off the ball, and the defenders did show their merit, restricting UAE and hardly offering them clear chances to score.
This is the mark of a great defensive unit.
Love Sports news?
Stay updated with the latest happenings.
Notify Me
Inconsistency
India's finishing should be much better, inconsistency won't work
That said, goals win matches, and in such a tournament where each match is extremely vital, you cannot afford to be inconsistent.
Sandesh Jhingan, Ashique Kuruniyan, Udanta Singh, and Jeje Lalpekhlua all missed chances to score, and their poor finishing only added to UAE's confidence as the match progressed.
Constantine will surely have a word or two for his players now.
Lead
India should take the lead early for that extra confidence
What India should always try to do is take the lead as fast as possible.
This will not only boost the team's confidence, but will also put pressure on their opponents to a large extent.
India have talented players in their ranks, but waiting to figure out the opponent's strategy and then attack will not work in such a huge competition against high-quality opponents.
Constantine
Constantine defended his players, says result could have been different
Stephen Constantine said he was proud of the performance the Indian players put up, and was of the opinion that had India converted their chances, the match could've taken a different shape.
Constantine gave a very important lesson to Indian football - that India needs coaches who will teach kids how to be comfortable on the ball, something India's poor possession shows they clearly aren't.
Bahrain
Bahrain can be a serious challenge come Monday
Bahrain, it should be remembered, managed to hold UAE to a draw despite starting the tournament against the hosts who, in turn, are better-ranked than them.
Thus India have to take this match as seriously as a final, because losing will see them eliminated from the group stage itself.
Al Rohaimi will have to be given special attention by the Indian defenders. Most asked questions
Do India have a chance against Bahrain on Monday?
Who won in the Bahrain vs Thailand match?
Who is the 2019 Asian Cup's highest scorer?
When is India's match against Bahrain?
Do India have a chance against Bahrain on Monday?
Asked on 11-01-2019 by Anika Jain
Answered by NewsBytes
India will have to be very cautious when they play against Bahrain, as they do have the chance, but Bahrain proved an impressive side against UAE.

Who won in the Bahrain vs Thailand match?
Asked on 11-01-2019 by Sanvi Rao
Answered by NewsBytes
The Thais turned out victorious in the match, winning with a scoreline of 1-0, and thus are third on the group table.

Who is the 2019 Asian Cup's highest scorer?
Asked on 11-01-2019 by Aarav Mehra
Answered by NewsBytes
Mehdi Taremi (Iran), Yuya Osako (Japan), and Sunil Chhetri (India) have all managed to score two goals each, the highest so far.

When is India's match against Bahrain?
Asked on 11-01-2019 by Rishika Rangan
Answered by NewsBytes
On Monday, at 9:30 PM. Catch it on the Star Sports network or Hotstar.

More questions