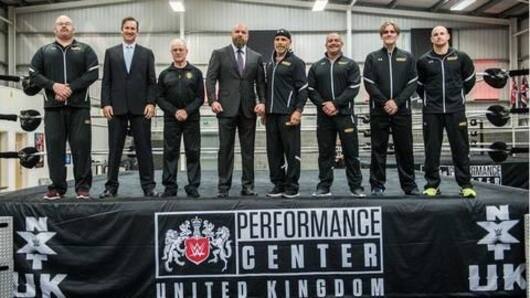 WWE Performance Center to be opened in India: Triple H
WWE, recently, opened its first Performance Center, outside of America, in United Kingdom.
And its Executive Vice President of Talent, Live Events and Creative, Triple H has revealed the plans to open other such centers.
The performance center has been the source of some major talents like the Shield members, Kevin Owens and Aleister Black.
Notably, WWE is planning to open one in India.
WWE wants to set up performance centers across the globe
In an exclusive interview to Hindustan Times, Triple H said that WWE is looking forward to opening performance centers in India, the Middle East, and Latin America.
According to him, WWE believes a significant pool of wrestling talent is present in India.
The performance center in UK was inaugurated before NXT Takeover Blackpool, the second NXT event to take place in England.
What are the things the center teaches superstars?
WWE teaches upcoming superstars not only how to fight, but all the intricacies of the business and life of a professional wrestler.
How to perform the moves safely, how to execute promos, to develop the gimmick of a wrestler, and take storylines forward are some of the many things taught.
Trainees even get to learn from top professionals of the business like Shawn Michaels.
Love Sports news?
Stay updated with the latest happenings.
Yes, notify Me
Even experienced wrestlers have to go through training
Not only amateurs, who wish to join the business, are trained at the performance centers, but experienced wrestlers, who might have had a long and successful career in the independent circuit, are also groomed and patterned into WWE's way of doing things.
WWE will be holding their first Indian tryout in Mumbai
Mumbai will see WWE holding its first-ever tryout in the country in March, and it is believed that 40 talented sportspersons will be given a chance to prove themselves in front of WWE officials.
The wrestlers, who will get selected, will be taken to WWE's Performance Centers in London or Orlando.
Indians like Kavita Devi, Rinku Singh and Saurav Gujjar were selected earlier.
When will the Mumbai tryouts be held?
Asked 2019-01-13 12:34:30 by Shreya Vyas
Answered by NewsBytes
WWE will hold their first Mumbai tryouts in March, but the dates haven't been known yet.
Who are the other performers from India except kavita Devi recently hired by WWE?
Asked 2019-01-13 12:34:30 by Rajesh Rangan
Answered by NewsBytes
Other performers WWE has hired from India include Rinku Singh and Saurav Gurjar.
Where do we apply for the Mumbai tryouts?
Asked 2019-01-13 12:34:30 by Shaurya Yadav
Answered by NewsBytes
Check out WWE Performance Center's official website right here- https://www.wweperformancecenter.com/#!/
Name a huge talent recently coming out of WWE's Performance Center?
Asked 2019-01-13 12:34:30 by Paridhi Gupta
Answered by NewsBytes
Alexa Bliss and Akam are two big names to come out from the Performance Center.