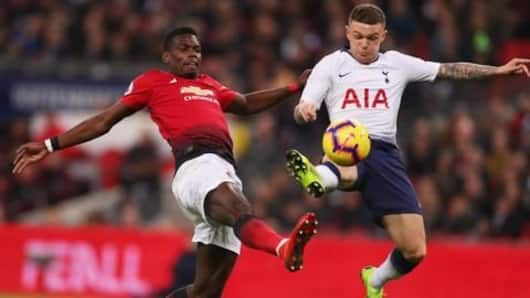 Manchester United defeat Tottenham Hotspur: Here're all records broken
David de Gea was the main architect of Manchester United's victory last night.
United managed to defeat Tottenham Hotspur at Wembley with a scoreline of 1-0.
United scored when Pogba set up Rashford with a brilliant assist which the 21-year-old complimented with a stupendous finish in the first half.
Tottenham were better in the second half, but de Gea alone held them at bay.
Ole Gunnar Solskjaer equals Sir Matt Busby's record
This match was the most important test Solskjaer faced since taking charge of United, and he came out with flying colors.
With this win, Solskjaer created history by becoming the first Manchester United manager since the legendary Sir Matt Busby to win his first five league matches in charge.
Notably, Solskjaer has now won his first six games, as United's manager, across all competitions.
Tottenham have created a record they won't be proud of
Tottenham lost at home in consecutive league matches for the first time since 2015.
They have now lost four Premier League matches at home this season, twice the total number of losses they faced in the previous two seasons combined.
Harry Kane had 7 shots, failing to convert a single one, the same ordeal he faced against United in January 2018 (8 shots).
Love Sports news?
Stay updated with the latest happenings.
Yes, notify Me
David de Gea was the man responsible for Tottenham's defeat
David de Gea stood like an unwavering wall in the face of repeated Spurs onslaught on United's defense.
He made 11 saves in the match, his second-highest ever in a Premier League fixture, the highest coming against Arsenal in December 2017 (14 saves).
This was the highest number of saves he has made in a top five European league game while keeping a clean-sheet.
Other impressive Man United records
Pogba has been the man behind United's 53% goals since Solskjaer arrived, collecting four goals and four assists.
This was also the first time ever that Rashford has managed to score in three successive Premier League matches in his career.
After registering two clean sheets in their first 20 matches, United have now managed to do so in consecutive games.
Who are Man United facing next in the Premier League?
Asked 2019-01-14 11:10:37 by Anika Rodrigues
Answered by NewsBytes
Up next, United face Brighton in the Premier League.
Can Man United break into the top four?
Asked 2019-01-14 11:10:37 by Arjun Gupta
Answered by NewsBytes
Yes, if they continue their form and Chelsea stumble, United can break into the top four.
When do United face Liverpool again?
Asked 2019-01-14 11:10:37 by Dhruv Subramanium
Answered by NewsBytes
United face Liverpool on February 24 in the Premier League.
Is de Gea the best goalkeeper in the world?
Asked 2019-01-14 11:10:37 by Angel Jain
Answered by NewsBytes
De Gea is surely among the best goalkeepers in the world, but it cannot be objectively said if he's the greatest.