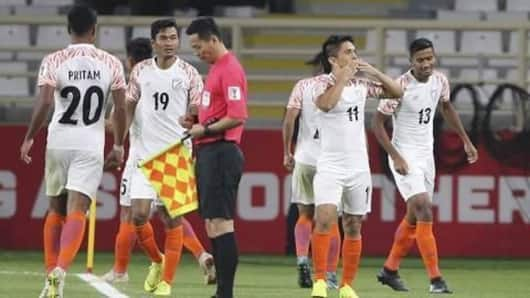 AFC Asian Cup: Key battles in India vs Bahrain fixture
India meet Bahrain tonight for their third and final group stage battle of the AFC Asian Cup 2019.
After defeating Thailand and losing against UAE, India will look to win tonight and seal their spot in the knockout stage.
Which battles on the field tonight will determine the outcome of the match?
Read on to find out for yourself.
Battle of the edge: India's fullbacks against Bahrain's wingers
Bahrain have talented wingers in the form of Al-Safi and Al Aswad.
They can create problems by going out wide and trying to cross the ball through, as Bahrain will be better, than India, in the aerial department.
What India have to do is contain their onslaught and use their fullbacks wisely.
Pritam Kotal and Subhasish Bose should concentrate on holding them at bay.
Al Romaihi should be nullified by Jhingan
Without a doubt, India's best defender Sandesh Jhingan will have to contain Bahrain's center of attack, Al Romaihi.
Jhingan can man-mark him throughout the match or create an offside trap, but Romaihi should never be let out of focus if India want to guarantee themselves a victory.
Further, Madan and Rashid should not be allowed to connect, as it will cut-off Bahrain's attacking chances.
Love Sports news?
Stay updated with the latest happenings.
Yes, notify Me
Chhetri and Kuruniyan will be the key players in attack
What should be kept in mind is that Bahrain have a strong defense.
They restrained both Thailand and UAE to one goal each in their previous matches.
Thus India have to increase their goal-scoring chances via Sunil Chhetri and Ashique Kuruniyan.
They can face stiff challenges from Al Hayam, who will be the core of the Bahrain's defense tonight.
The one who controls the midfield, controls the game
India have a stellar mid-field, but what they have failed to do is to keep the possession of the ball for long.
Thapa and Halder have to focus on retaining possession and not allow Saeed, Al Safi and others to get the better of them in mid-field.
India's passing accuracy should also be better to obtain a positive result tonight.
Who are India's key players for tonight?
Asked 2019-01-14 16:15:59 by Rakesh Pawar
Answered by NewsBytes
Sunil Chhetri, Gurpreet Singh Sandhu, and Sandesh Jhingan are India's key players for tonight.
How certain is India of qualifying?
Asked 2019-01-14 16:15:59 by Ayaan Trivedi
Answered by NewsBytes
India will qualify with a draw or a win.
How many international goals has Sunil Chhetri scored?
Asked 2019-01-14 16:15:59 by Navya Chavan
Answered by NewsBytes
Sunil Chhetri has scored 67 international goals for India.
How many goals has Chhetri scored in his Asian Cup appearances?
Asked 2019-01-14 16:15:59 by Reyansh Das
Answered by NewsBytes
Chhetri has scored 4 goals in his Asian Cup appearances of 2011 and 2019.