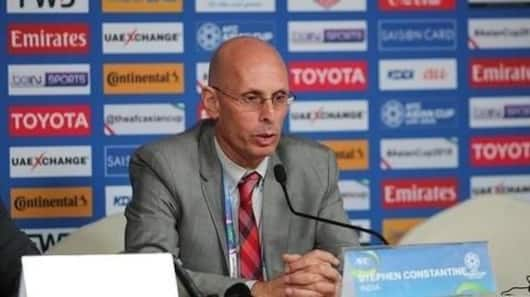 Stephen Constantine resigns: Who can be his perfect replacement?
The Indian football team crashed out of the AFC Asian Cup 2019 after losing to Bahrain in their third group stage match, and the loss saw Stephen Constantine, their head coach, calling it quits.
Constantine announced his decision less than an hour after India's loss.
Indian players had also earlier complained he was not technically proficient enough to lead them.
Here're his ideal replacements.
Ashley Westwood could be a good choice for India
Former Bengaluru FC manager Ashley Westwood is the youngest ever to win the I-League, which he did in the 2013-14 season.
The next season was also great but Bengaluru missed out on championship glory. However, Westwood made up for it with another I-League win in 2015-16.
The Manchester United academy graduate has shown tactical finesse in Indian conditions and could be a serious contender to replace Constantine.
Can Robin Dutt be a possible replacement?
Robin Dutt has previously managed teams like Bayer Leverkusen, but was not that successful in the Bundesliga, and even lost 7-1 to Barcelona in the Champions League.
However, with his Bundesliga and Champions League experience, Dutt can be an option for the AIFF to consider.
The German should be able to bring in the technical knowledge and experience required for top-flight international football.
Love Sports news?
Stay updated with the latest happenings.
Yes, notify Me
India can consider bringing in Antonio Lopez Habas
Habas led ATK to ISL victory in the inaugural season of the tournament, and also has La Liga experience after coaching teams like Granada, Valencia, and Celta Vigo.
He is currently free and India can approach Habas for the job of leading the national side.
The Spanish top-flight experience that Habas has can prove to be valuable for the Blue Tigers.
Can the AIFF manage to rope in Guus Hiddink?
Guus Hiddink has managed teams like the Netherlands, Real Madrid and Chelsea, but is currently the manager of China's U-19 squad.
If the AIFF manages to rope him in, Hiddink will bring in the experience of a world-class football coach earlier unseen in the Indian ranks.
A technically superior force like him could be able to lead India to future glory.
Could Zico be the one to lead India to success?
Zico was the coach for FC Goa from 2014 to 2016 and thus is already acquainted with many players from the Indian national team.
Currently without a job, Zico could be a viable option for India, and his immense knowledge of World Cup-level international football could be a great boost for the team.
The AIFF should make him one of their top priorities.
For how long Constantine coach India?
Asked 2019-01-15 19:42:30 by Hansika Mehta
Answered by NewsBytes
Constantine was India's coach from 2002-2005 and 2015-2019.
Why was India's campaign a failure?
Asked 2019-01-15 19:42:30 by Vishal Gavde
Answered by NewsBytes
India's tactical error of defending throughout and looking for counters proved to be the main reason for their failure.
Has AIFF said anything regarding Constantine's possible replacements?
Asked 2019-01-15 19:42:30 by Dhruv Sengupta
Answered by NewsBytes
No, no official announcement has yet been made by the AIFF.
Who is the best possible replacement?
Asked 2019-01-15 19:42:30 by Trisha Jindal
Answered by NewsBytes
Zico is the best possible replacement, but it remains to be seen whether he is approached in the first place.