Sports
Tendulkar backs BCCI's decision of using DRS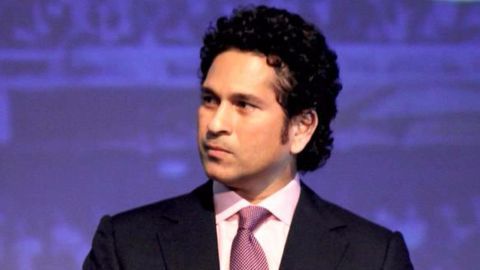 Master Blaster Sachin Tendulkar has applauded BCCI for introduction of DRS system in India and said that it is a positive step towards betterment of cricket.
Tendulkar added that third umpire should be able to intervene if the on-field umpire gives the batsman out but the reply shows that he is not.
He said, "DRS is all about getting the decisions right."
In context:
Decision Review System
About

What is the Decision Review System(DRS)?
The Decision Review System is a technology used to review the controversial decisions of the on-field umpires about the batsman being out or not.
The technology was first introduced at the test match between India and Sri Lanka in 2008.
DRS made its ODI debut in January 2011 in a match between England and Australia.
Components of DRS

Hawk Eye's LBW DRS and Ultra Edge
Hawk eye's LBW DRS is used to track the trajectory of the the ball and see whether the ball hits the batsman's pad and then to determine if the ball would have hit the stumps or not.
Ultra edge is a technology used in detecting whether a batsman has edged the ball or not using ultra motion cameras and audio from the stump mics.
Love Sports news?


Stay updated with the latest happenings.
ICC made use of DRS 'mandatory'

During the initial years after DRS was introduced, the International Cricket Council made the use of DRS mandatory in all the matches. However, it was made optional after opposition from various cricketing bodies across the world.
BCCI's take on the DRS

BCCI against the technology even after world agrees to it
Unlike the other cricketing boards in the world, the Board of Control for Cricket in India (BCCI) has been against the use of DRS technology since the time it was brought in function.
Former test captain MS Dhoni said that the system was imperfect and could not be used.
BCCI has not used DRS in most of the bilateral series in India.
BCCI to use DRS in series against England

BCCI has decided to make use of full DRS system in the recent series against England. Test captain Virat Kohli has spoken about DRS saying that it was no rocket science and easy to use.
15 Nov 2016

Tendulkar backs BCCI's decision of using DRS
Love Sports news?


Stay updated with the latest happenings.
28 Feb 2017

DRS not Virat Kohli's calling card?
India's poor and inefficient use of the Decision Review System (DRS) in the recently concluded test against Australia have raised many eyebrows.
In the last seven test where DRS has been used, India's success rate with the decisions going in their favour has only been 30.9 per cent.
India have got only 17 correct decisions out of the 55 referrals that they have taken.