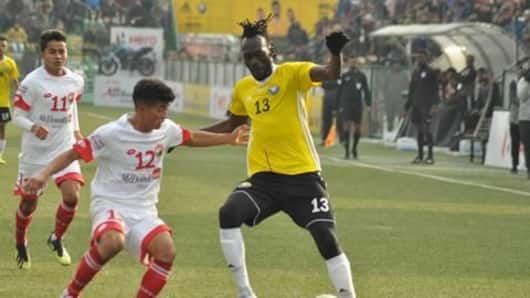 I-League 2018-19: Shillong Lajong vs Real Kashmir: Preview and prediction
Shillong Lajong, who are at the bottom of the I-League table, will be hosting Real Kashmir tomorrow for their return fixture of the season.
Kashmir have been in phenomenal form, and are currently third in the league table with 22 points from 12 matches.
It will be a massive hurdle for Shillong to cross tomorrow.
Here's our detailed match preview.
Shillong have been defensively poor this term
Shillong have scored just 13 goals this term while conceding a humongous 36 goals in 12 matches.
Center-backs Aibanbha Dohling and Kenstar Kharshong have to radically improve their performance if they want to stop Kashmir's blistering attack.
Meanwhile, Kitboklang Pale and Phrangki Buam, both of whom have not been up to the mark, will face a tough challenge from Kashmir's defense.
Real Kashmir have been a force to be reckoned with
Real Kashmir are the strongest defensive team of this season, and have managed to keep six clean sheets already.
They have not been defeated in their last eight matches, and will want to continue their stunning form when they face an easy opponent like Shillong.
They will need to win tomorrow and take a foot forward in their title race.
Love Sports news?
Stay updated with the latest happenings.
Yes, notify me
Who will be the key players in this fixture?
Kashmir have a bunch of talented footballers in their ranks, with Abednego Tetteh having already impressed as a forward and Mason Robertson being a great midfielder.
Aaron Katebe and Loveday Enyinnaya have also been wonderful defenders for Kashmir.
For Shillong, Samuel Kynshi and Kitboklang Pale need to step up and provide goals if they wish to register their second win of the season.
Predicted lineup and TV listing
Shillong Lajong: Chalieu, Gurung, Dohling, Kharshong, Rabha, Lalrohlua, Singh, Buam, Lalmuanpuia, Kynshi, Pale.
Real Kashmir: Khan, Ravanan, Katebe, Enyinnaya, Ganie, Singh, Robertson, Armand, Thapa, Bhatt, Tetteh.
The match is scheduled to kick-off at 5:00 PM and will be telecast on the Star Sports network.
It can also be live-streamed on Hotstar or Jio TV.
How can the match turn out tomorrow?
Real Kashmir are clearly the favorites, and have proved their merit time and again this season.
Shillong, objectively speaking, don't stand a chance against Kashmir tomorrow, and can be handed a brutal thrashing once again.
What their objective should be is to prevent Kashmir from scoring at any cost.
Kashmir can come out victorious with a scoreline of at least 0-3.
When did Real Kashmir join the I-League?
Asked 2019-01-18 18:48:11 by Cheshta Gupta
Answered by NewsBytes
2018-19 is the debut season of Real Kashmir in the I-League.
What was the result of the first match of the season between these two sides?
Asked 2019-01-18 18:48:11 by Shaurya Kapoor
Answered by NewsBytes
Real Kashmir thrashed Shillong Lajong with a scoreline of 6-1.
Whom do Real Kashmir face next?
Asked 2019-01-18 18:48:11 by Aradhya Rao
Answered by NewsBytes
Kashmir face league leaders Chennai City next.
Whom do Shillong Lajong face next?
Asked 2019-01-18 18:48:11 by Ajay Malik
Answered by NewsBytes
Shillong Lajong face Minerva Punjab next.