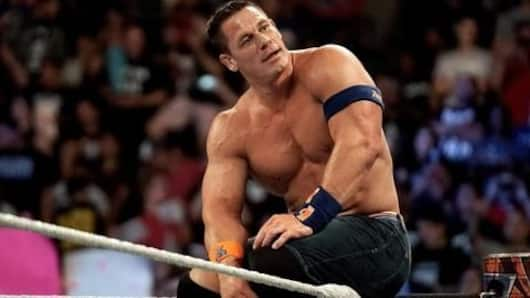 Do you know these interesting facts about John Cena?
John Cena is the most popular WWE superstar since Stone Cold, but what we get to see of him in the ring is only the character of John Cena that he portrays.
Have you ever wondered how the man, with the 16 world titles, is personally?
What motivates him, how did he come into the pro-wrestling industry?
Read on to find out.
A little on Cena's family and lineage
Cena has four siblings and is the second-oldest among them.
He grew up in West Newbury, Massachusetts, and graduated from college with a degree in exercise physiology.
His maternal grandfather, Tony Lupien, was a renowned baseball player.
While finding his foot in the wrestling industry, Cena was a driver for a limousine company to help make ends meet.
Cena has a great collection of luxury and sports cars
Cena loves to spend his fortune on buying luxury vehicles, and has an enviable collection of mean machines in his garage.
His collection includes Ferrari, two Rolls Royce, a 2006 Lamborghini Murcielago Coupe, the Aston Martin which Pierce Brosnan rides in Die Another Day.
Cena also has an automobile show called John Cena: Auto Geek where he talks about his car collection.
Love Sports news?
Stay updated with the latest happenings.
Yes, notify me
Here's a look at Cena's career in numbers
John Cena has wrestled in 2,234 matches throughout his career. He has a staggering win percentage of 78.6%.
He has performed in 160 pay-per-view matches for WWE, winning 93 and losing 64 bouts in total.
Cena has been the WWE Champion for 1,254 days and the World Heavyweight Champion for 154 days.
He held the Raw Tag Team Championship for just a day.
What are his interests outside of wrestling?
Cena, on The Ellen DeGeneres Show, revealed that he is learning Mandarin.
He is also learning how to play the piano.
Moreover, Cena is one celebrity with a heart of gold. He has fulfilled more than 500 wishes of children who had applied through the Make A Wish Foundation.
He is also a rapper and sang his entrance music himself.
How has his personal life turned out?
Cena first got married to Elizabeth Huberdeau in 2009, but the two divorced within three years.
Then he had his much-publicized affair and eventual break-up with Nikki Bella.
Interestingly, Cena supports Premier League club Tottenham Hotspur and loves watching Japanese anime.
He recently stayed in China for five months and featured in a short film with the legendary Jackie Chan.
A man of many names
Did you know, John Cena is not the only name John Felix Anthony Cena Jr. has used in his pro-wrestling career? He was also earlier known as Juan Cena, The Prototype, and Mr. P.
How much is John Cena's net worth?
Asked 2019-01-19 14:02:10 by Hansika Das
Answered by NewsBytes
Cena is believed to be worth around $55 million.
Will John Cena participate in the Royal Rumble?
Asked 2019-01-19 14:02:10 by Divya Khan
Answered by NewsBytes
Yes, he has been confirmed as a participant in the Royal Rumble.
Against whom did Cena fight in his first WWE match?
Asked 2019-01-19 14:02:10 by Aditya Rangan
Answered by NewsBytes
Cena fought his first WWE match against Kurt Angle.
Which movie was Cena seen in recently?
Asked 2019-01-19 14:02:10 by Arnav Das
Answered by NewsBytes
Cena was seen in the Transformers' movie "Bumble-Bee".