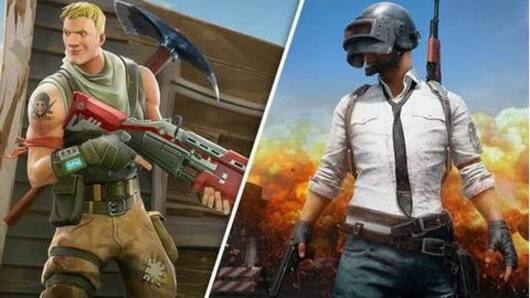 #GamingBytes: Why is PUBG Mobile popular than Fortnite in India?
PUBG Mobile had captured the Battle Royale market on mobile platforms long before Epic Games launched Fortnite for Android and iOS devices.
Despite the overwhelming popularity of Fortnite on most platforms including PC, PUBG still dominates the Indian mobile gaming circuits.
Here we take a look at the reasons which make PUBG Mobile more popular among Indian gamers than the mobile version of Fortnite.
PUBG Mobile enjoyed a first mover advantage
PUBG Mobile enjoys greater popularity than Fortnite due to its first mover advantage.
PUBG Mobile released on February 9, 2018, globally, while Fortnite only came to Android on August 9. The initial beta version followed by rolling-out to all devices also took time.
By then, PUBG had already established itself as the best Battle Royale game on mobile platforms and garnered a loyal following.
Realistic graphics make gameplay more intense and immersive
Fortnite has much more animated graphics and often tends to have cartoon-like characters in the game.
On the other hand, PUBG Mobile sticks to realistic graphics and characters. The added realism in visuals not only makes the Battle Royale experience more immersive but also more intense.
This is why Indian mobile gamers have opted for the more realistic Battle Royale than the comical one.
Love Sports news?
Stay updated with the latest happenings.
Yes, notify Me
PUBG Mobile has more map variants than Fortnite
Different content is a sure-fire way of gaining Indian gamers' approval.
While PUBG Mobile has realized that and introduced various maps of varying sizes and terrains, Fortnite still sticks to one map, within which it keeps on introducing changes.
At present PUBG Mobile has a grassy map, a desert map, a forest map, and a snow map.
It makes gameplay interesting and intense.
Shooting mechanism and weapons are more realistic in PUBG Mobile
Out of all the Battle Royale games that are in existence at the moment, PUBG has the most realistic shooting mechanism.
This realism naturally found its way into the mobile version of the game, making gunfights highly engaging and interesting.
The weapon damage does not depend on rarity classifications like Fortnite (Legendary, Epic), making looting much simpler and smoother on mobile devices.
Building distracts gamers from the actual game in Fortnite
When gamers play a Battle Royale, they are more focused on looting and killing opponents in order to emerge victors.
Fortnite unnecessarily complicates this by introducing the building feature, where players can build various structures by collecting materials in-game, to allow them defensive or tactical advantages.
PUBG Mobile sticks to the basics of looting and killing making it more enjoyable on smaller mobile screens.
Which PUBG gun is good for assault play?
Asked 2019-01-23 21:05:15 by Anmol Tanish Gaming
Answered by NewsBytes
Most assault rifles and SMGs are great for assault play. I would suggest a SCAR-L and UMP9 combo if you enjoy assault gameplay.
Which skin is the rarest skin in fortnite battle royale?
Asked 2019-01-23 16:01:24 by AISHA Hamdani
Answered by NewsBytes
The Renegade Raider is probably the rarest skin in Fortnite.
What is the best sniper in pubg
Asked 2019-01-22 17:32:19 by Jitu Sinhal
Answered by NewsBytes
AWM is the best sniper in PUBG.
Is AKM and AK47 similar? If not, which is heavier?
Asked 2019-01-22 16:26:02 by Zaid Zfk
Answered by NewsBytes
They are the same gun. AK47 is called AKM in PUBG.
How many bots are there approximately in a match of PUBG?
Asked 2019-01-22 12:50:57 by Lohitaksha Malhotra
Answered by NewsBytes
Depends on the level you are at. Towards the start, expect to encounter at least more than 2 bots. As levels increase, the number of bots decrease.
What are all the guns in pubg?
Asked 2019-01-22 12:50:50 by Serios Thunder
Answered by NewsBytes
There are several guns across many categories in PUBG which range from close to long combat. You can check out the list here - https://pubg.gamepedia.com/Weapons
Which map is the best map in PUBG Mobile?
Asked 2019-01-22 12:16:57 by ALL IN ONE FIRE
Answered by NewsBytes
It depends on what suits your playing style. I like Miramar the best.
Best non-crate Sniper Rifle in PUBG mobile?
Asked 2019-01-22 11:47:25 by Ankit Kabra
Answered by NewsBytes
M24 is the best naturally spawning sniper in the game.
When is epic game is going to release fortnite in all types of android devices like pubg?
Asked 2019-01-22 10:06:39 by Mohan Smith
Answered by NewsBytes
Epic will eventually try and make Fortnite accessible across all devices, but it must be given some time since it has not been long Fortnite has been available for Android.
What is laser sight?
Asked 2019-01-22 09:22:36 by Moni Dev
Answered by NewsBytes
The Laser Sight has been newly introduced which can be attached to certain weapons instead of a grip. It helps to fire accurately without having to zoom in using your weapon sights.
When we will get zombie mode in pubg mobile?
Asked 2019-01-22 01:00:50 by Shanmukh Unique
Answered by NewsBytes
Hopefully, sometime soon, while season 5 continues.
What are the PUBG Mobile maps?
Asked 2019-01-21 19:27:17 by Ankita Banerjee
Answered by NewsBytes
Vikendi, Sanhok, Erangel and Miramar are the PUBG Mobile maps.
What is the best gun in PUBG?
Asked 2019-01-21 19:27:17 by Dhruv Sharma
Answered by NewsBytes
M416 is the best all-rounder in PUBG.
Which season is PUBG Mobile on now?
Asked 2019-01-21 19:27:17 by Abhinav Patil
Answered by NewsBytes
PUBG Mobile is on season 5 now.
What resources does Fortnite building require?
Asked 2019-01-21 19:27:17 by Vihaan Jayaraman
Answered by NewsBytes
Wood, stone, bricks, and metal are among the resources that can be gathered in Fortnite for building purposes.