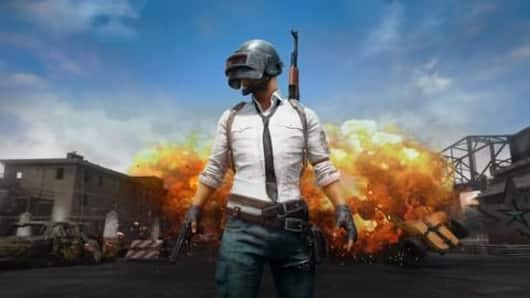 #GamingBytes: What is PUBG? Read everything about the game here
PUBG or PlayerUnknown's Battlegrounds is one of the most popular Battle Royale games.
Developed by PUBG Corporation, a subsidiary of the South Korean Bluehole company, a mobile version of the same was created by Tencent.
The mobile version has become immensely popular, and even India's Prime Minister Narendra Modi, recently referenced PUBG during Pariksha Pe Charcha event.
Here we bring all details about PUBG.
Addictive game catches Modi's attention
At his Pariksha Pe Charcha 2.0 event held in Delhi, PM Modi addressed the complaint of a worried mother about her child suffering from gaming addiction. He asked 'PUBG wala hai kya?' ; the reference by the PM has made PUBG viral, increasing online searches.
Developed by Brendan Greene, game is based on Japanese movie
Credits:
PUBG has been developed primarily by Brendan Greene who goes by the name 'PlayerUnknown' in gaming circles.
Brendan developed a series of games in the Battle Royale genre like H1Z1, but PUBG became the most famous and expanded to a standalone game title.
The Battle Royale concept draws inspiration from a Japanese movie titled Battle Royale, that came out in the year 2000.
Love Sports news?
Stay updated with the latest happenings.
Yes, notify me
What is the Battle Royale concept?
In a Battle Royale game, a certain number of players drop onto a map that keeps shrinking.
Players have to keep looting weapons and items, while killing opponents, in order to emerge as winners.
In PUBG, 100 players drop into each map, in solos, duos or squads.
The winner or last person standing is greeted with the 'winner, winner, chicken dinner' message.
What is PUBG's specialty from other Battle Royale games?
Credits:
PUBG offers numerous maps which force gamers to play across different geographical terrains.
The maps are the grassy Erangel, desert map Miramar, forest map Sanhok and snow map Vikendi.
PUBG also focuses on intensely tactical gameplay based on balancing stealth and aggression.
The game manages to stand out among other Battle Royale games for highly accurate shooting mechanics, which requires training to master.
Why is PUBG Mobile so popular?
PUBG Mobile has gained immense popularity since it is free to play. Reports suggest PUBG Mobile has 200 million downloads globally and gets 30 million players daily. A large part of this gamer base comes from India, where mobile gaming is on the rise.
Other games you should check out if you like PUBG
Since PUBG is also getting banned in some places of India despite its popularity, here are some alternate Battle Royale games.
Fortnite by Epic Games is the best alternative, with smooth gameplay and a mobile version as well.
Blackout from Call of Duty: Black Ops 4 is a highly polished version of PUBG.
Survival Game also delivers a promising Battle Royale experience.
I have PUBG pc version and there for a week I can't request to anyone to play with me that means I can't invite. Why?
Asked 2019-01-31 18:56:03 by Birat Chakraborty
Answered by NewsBytes
Perhaps you have been sending invites to people who are busy or offline. If the problem persists, contact the game developer.
Can we play PUBG in PC?
Asked 2019-01-31 07:46:33 by kashyap patel
Answered by NewsBytes
Absolutely PUBG PC was the first version of the battle royale to launch.
What is the best gun for PUBG?
Asked 2019-01-30 20:43:22 by Parakram Bhatnagar
Answered by NewsBytes
M416 is the best all-rounder gun for PUBG.
What is the best sniper for PUBG?
Asked 2019-01-30 20:43:22 by Aaradhya Chatterjee
Answered by NewsBytes
AWM is the best sniper overall, M24 is the best sniper naturally spawning in the game.
What is the full form of PUBG?
Asked 2019-01-30 20:43:22 by Anika Bose
Answered by NewsBytes
PlayerUnknown's Battlegrounds is the full form of PUBG.
How many platforms is PUBG available on?
Asked 2019-01-30 20:43:22 by Pranav Shah
Answered by NewsBytes
PUBG is available for PC, Android, iOS, PS4, and Xbox.