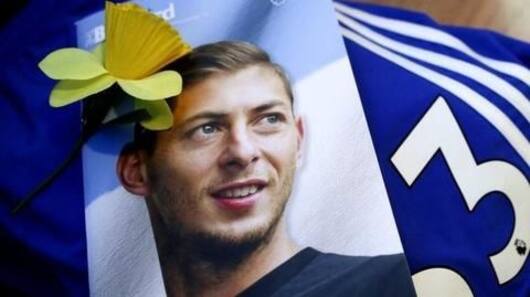 Footballers pay tribute to Emiliano Sala after his body's recovery
Argentine footballer Emiliano Sala's body has finally been found after he went missing while traveling to Cardiff from Nantes.
Footballers like fellow Argentine Sergio Aguero and Mesut Ozil have shown their respect to the deceased forward and the pilot of the plane they were on.
Investigations regarding his death are still underway, the Dorset Police reports.
Here're further details.
When and where did the accident happen?
Sala was recently signed by Cardiff City with a record transfer fee of £15 million in the January transfer window from Nantes.
He and pilot David Ibbotson were on the private plane Piper Malibu when it went missing, mainly due to bad weather.
The incident is believed to have happened in and around January 20-21.
Searches were also called off due to weather conditions.
How was Sala's body finally found?
Searches were initially called off after no trace of either the plane or the two passengers on it was found.
It was only after protests from various sectors, including Argentine superstar Leo Messi and President of Argentina Mauricio Macri, that searches were resumed.
The crashed plane along with the bodies of Sala and Ibbotson were discovered near the Channel Islands and later identified.
Love Sports news?
Stay updated with the latest happenings.
Yes, notify me
An expert led a private search himself
David Mearns is a shipwreck expert who decided to conduct a private search himself.
Distressed after the body was found, Mearns said, "Rest in peace Emiliano. I was glad to provide some small comfort to ... the whole Sala family during the past two weeks, but my heart goes out to the family and friends of David Ibbotson, whose loss is the same."
What has the Air Accidents Investigation Branch said?
The AAIB has said that attempts to recover the aircraft were made impossible by terrible weather conditions.
They also added that the forecasts were also not on their side, and thus the search has been brought to a close.
They say, recovery of the deceased footballer's body was "carried out in as dignified a way as possible".
Mesut Ozil remembers the young footballing talent
No words to describe how sad this is. 😪 Thoughts and prayers go out to his family and also to the family of the pilot. ❤🙏🏼 #RIPsala pic.twitter.com/Uirj6etfZk

— Mesut Özil (@MesutOzil1088) February 7, 2019
Has Emiliano Sala's body been found?
Asked 2019-02-08 16:49:00 by Sai Mukopadhyay
Answered by NewsBytes
Yes, his body has been discovered off the coast of the Channel Islands.
Who did Sala sign for after Nantes?
Asked 2019-02-08 16:49:00 by Ananya Sarin
Answered by NewsBytes
Sala had signed for Cardiff City after Nantes.
Has Emiliano Sala's body been identified?
Asked 2019-02-08 16:49:00 by Navya Balasubramanium
Answered by NewsBytes
Yes, his body has been identified by the coroner after recovery.
Will Cardiff have to pay Nantes?
Asked 2019-02-08 16:49:00 by Hemant Shah
Answered by NewsBytes
Yes, they might have to since the deal was already signed.