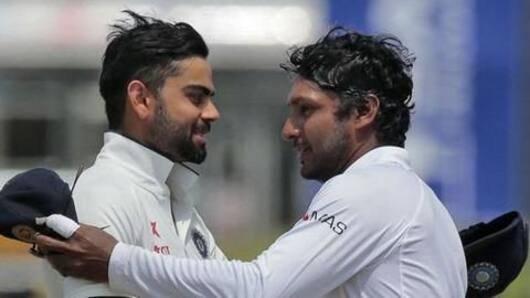 Virat Kohli is better than his contemporaries: Kumar Sangakkara
Sri Lankan cricket legend Kumar Sangakkara is mesmerized by the performances Virat Kohli delivered in 2018 and has continued to do so in 2019.
He clearly stated that he believes Kohli is better than all of his peers in every possible way.
In 2019, Kohli led India to a historic Test series victory for the first time ever in Australia.
Sangakkara's comments on Virat Kohli
Credits:
The Sri Lankan southpaw added that he thinks Kohli will end up etching his name amongst the greatest cricketers in the history of the game.
Fascinated by Kohli's game, the legend, who is himself regarded as one of the greatest batsmen, said, "Everything about Virat's game stands out. I think he is head and shoulders above anyone else in world cricket today".
Kohli's 2018 season was laced with runs and accolades
2018 was a memorable year for Kohli as he managed to script several records throughout the year.
He was the highest scorer in both Tests and ODIs.
Virat was given the ICC's Cricketer, Test and ODI Player of the Year awards.
Apart from that, he became the first Asian captain to win Tests in England, South Africa and Australia in the same calendar year.
Love Sports news?
Stay updated with the latest happenings.
Yes, notify Me
Sangakkara praises Kohli's discipline while batting
Credits:
Sangakkara is pleased with the fact that Kohli has been successful in equal measures across all formats of the game while keeping his cricketing disciplines intact.
He admired that Kohli has a traditional batting style and does not change his batting's technique for a particular format.
Sangakkara also praised Kohli's passion on the field.
What has Mahela Jayawardene said about Kohli?
Another Sri Lankan legend, Mahela Jayawardene was also full of praises for Kohli.
He said that it is extremely impressive how Kohli manages to handle the pressure of a country with 1.3 billion people.
"We grew up with Sachin who had to perhaps experience the same thing. And for the next generation, it's probably on Virat's shoulders," Jayawardene said.
What was Kohli's best Test achievement in 2018?
Asked 2019-02-12 20:34:36 by Sanvi Powar
Answered by NewsBytes
Kohli became the first batsman from the Asian subcontinent to score a century each in South Africa, England and Australia in the same calendar year.
How many Test and ODI runs did Kohli score in 2018?
Asked 2019-02-12 20:34:36 by Trisha Rangarajan
Answered by NewsBytes
Virat Kohli amassed 1,138 runs in Tests in 2018. He notched 1,202 runs in ODIs in 2018.
How many ODI centuries has Kohli scored?
Asked 2019-02-12 20:34:36 by Arjun Sen
Answered by NewsBytes
Virat Kohli has scored 39 centuries from 222 ODI matches.
Which record of Rahul Dravid did Kohli break in 2018?
Asked 2019-02-12 20:34:36 by Abhinav Sengupta
Answered by NewsBytes
Kohli overtook Dravid on the list of top scorers for India in Test matches away from home in any calendar year. Dravid had gone on to amass 1,137 runs from 11 matches in 2002.