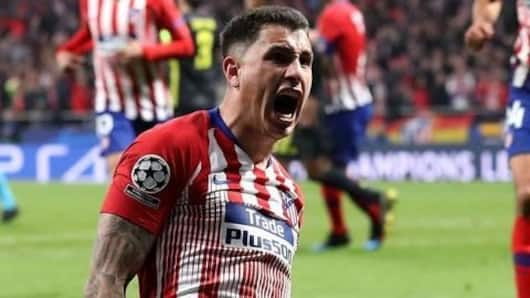 Champions League 2018-19: Atletico Madrid vs Juventus: Detailed match report
Atletico Madrid had a tough challenge in front of themselves in the Champions League round of 16 when they took the field against Juventus.
However, they have managed to take a huge advantage against the Italian giants by winning the first leg 2-0 at their home, Wanda Metropolitano, the venue of this season's UCL final.
Here we bring to you the detailed match report.
The match was a battle of the defenses
Credits:
The two teams in action are both famous for their superior defensive qualities.
The four central defenders, Bonucci and Chiellini of Juventus and Gimenez and Godin of Atletico are probably the best in the world in their positions.
However, it came as a surprise to all when the two Uruguayan defenders of Atletico, Godin and Gimenez ended up scoring the two goals for Atletico.
Love Sports news?
Stay updated with the latest happenings.
Yes, notify Me
There were some near misses in the match
Cristiano Ronaldo came close to scoring from a 30 meter out free-kick but Oblak saved it with impressive agility.
Diego Costa missed an easy opportunity to score when he found himself one-on-one with Juventus custodian Szczesny but couldn't manage to keep the ball on target.
Alvaro Morata drew first blood in the 71st minute with a header only to be ruled out by VAR.
Some interesting stats of this match
Credits:
In the knockout stages of the Champions League, Atletico Madrid have never lost a home game under their manager Diego Simeone.
Juventus have faced Atletico the most times without winning, having played three, drawn one, and lost two.
In all of their three matches in the Champions League, Juventus have never managed to score against Atletico Madrid.
Things looking tough for Juventus in the next leg
The next leg is scheduled for March 13, and things are looking difficult for Juventus.
They have to win with a margin of three goals at their home if they want to see themselves in the quarter-finals of the Champions League.
Considering the way Atletico played tonight, it will be really difficult to contain them, and that might see Juve out of the competition.
When is the next leg of this fixture?
Asked 2019-02-21 12:39:42 by Parakram Chattopadhyay
Answered by NewsBytes
The next leg of this fixture is on March 13.
Who will Juventus face next?
Asked 2019-02-21 12:39:42 by Cheshta Rangarajan
Answered by NewsBytes
Juventus visit Bologna on Sunday for their Serie A fixture.
Who are Atletico Madrid facing next?
Asked 2019-02-21 12:39:42 by Hemant Mehta
Answered by NewsBytes
Atletico are facing Villareal on Sunday in their La Liga match.
How many goals has Dybala scored in this season's UCL?
Asked 2019-02-21 12:39:42 by Aaradhya Jayaraman
Answered by NewsBytes
Dybala has scored five goals in this season's UCL.