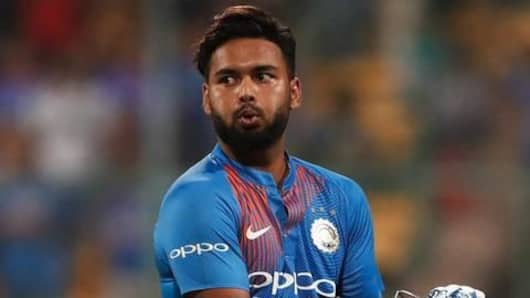 Should Rishabh Pant play World Cup 2019? We decode
The 21-year-old wicketkeeper-batsman from Delhi, Rishabh Pant, has become a new sensation for Indian cricket, especially owing to his power-hitting skills.
Although he has been a prolific player in the T20s, he is yet to prove himself in the 50-over format.
With the World Cup 2019 fast approaching, could Pant prove to be a genuine contender, considering his ODI performance so far? We decode.
Underwhelming performance in ODIs
Having played just three ODIs till date, Pant has managed to score only 41 runs at an average of 20.50, with his highest score being 24.
Notably, he played all the three ODIs against the Windies in October 2018.
However, he did not bat in his debut ODI, while in the other two games, he was dismissed for mere 17 and 24.
List A stats tell a different story
Since Pant hasn't played enough ODIs to correctly judge his performance, we looked at his List A records, which speak a different story.
In his last 10 matches, Pant has an average of 31.75, after scoring 254 runs, while playing for India, India A and Delhi.
Interestingly in his last 10 matches, he averages 84.66 for India A, and 33.00 while playing for Delhi.
Love Sports news?
Stay updated with the latest happenings.
Yes, notify me
A star in overseas
Another interesting fact that we would present is based on his performance at home and away.
Of the nine List A matches played at home, Pant has an average of 21.
However, away from home, Pant has played eight matches and has a stunning average of 44.71, which is way better compared to his average at home.
Backing by legends should give him confidence
Sourav Ganguly feels that Pant has no choice, but to fill in himself in the squad as he certainly has a future with Team India.
Also, skipper Virat Kohli believes in Pant and is keen on giving the youngster some much-needed game time to fit in the side.
Meanwhile, Harbhajan Singh has backed Pant to take the back-up opener's spot in case Rahul fails.
If not Pant, who could replace him?
While KL Rahul seems to be a genuine contender for World Cup, his performance in the ODIs too has been under scanner.
Dinesh Karthik has been doing good of late in the ODIs, however being a finisher would not make him ideal for number four spot.
We think that the management would back him and we would see him in action in England.
Is Pant in the squad for the ODIs against Australia?
Asked 2019-03-02 18:19:45 by Hansika Dutta
Answered by NewsBytes
Yes.
Is KL Rahul an opening batsman or wicketkeeper?
Asked 2019-03-02 18:19:45 by Anika Jindal
Answered by NewsBytes
Both.
Is Dinesh Karthik in the squad for ODIs against Australia?
Asked 2019-03-02 18:19:45 by Arnav Kapoor
Answered by NewsBytes
No.
Which order does Shreyas Iyer bat?
Asked 2019-03-02 18:19:45 by Navya Lobo
Answered by NewsBytes
Top order.