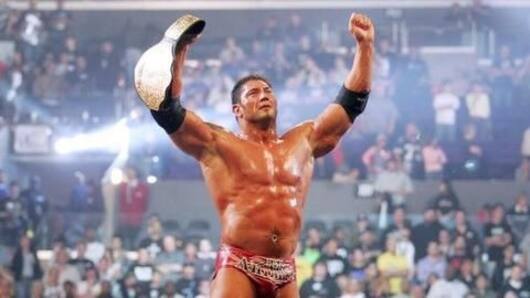 Check out the greatest rivals Batista ever feud with
The pro-wrestling world was abuzz when former WWE World Heavyweight Champion Batista returned to Monday Night Raw on February 25.
To make things interesting, Batista returned as a heel, attacking his mentor Ric Flair, to draw his long-time rival Triple H's attention and restart the feud that started Batista's prolific career.
Meanwhile, let us have a look at Batista's greatest WWE rivalries to date.
Taking over the throne from the King
Batista's one of the notable rivalries came against Booker T in 2006, when he feuded him for the World Heavyweight Championship.
King Booker, who was a heel back then, was the undisputed champion, using any means to retain the title.
Batista lost the initial few matches, especially due to Finlay interfering, but later, managed to win it at Survivor Series, following a three-month rivalry.
Taming The Great in his own game
In July 2007, Batista began a feud with The Great Khali for his third World Heavyweight Championship.
Batista's first match was a triple-threat match, involving Kane, which was won by Khali.
Later at SummerSlam, Khali disqualified himself to retain the title, attacking Batista with a chair.
The four-month feud ended when Batista outsmarted Khali in Punjabi Prison, a match created by Khali himself.
Love Sports news?
Stay updated with the latest happenings.
Yes, notify Me
Rey Mysterio pays a 619 price
In 2009, Batista's chance to become Heavyweight Champion was seemingly taken away by Rey Mysterio, who broke his pinfall chance in a Fatal-4-Way match.
Batista turned on Mysterio and won the initial two matches against him, but later, lost the number 1 contenders match to him.
He interfered in Mysterio's Heavyweight title match against Undertaker, brutally injuring him and thus ending the feud.
Don't mess with the champ
Following his feud with Mysterio, Batista aligned himself with heel Vince McMahon to feud with John Cena.
Batista won the championship from Cena in 2010 after the latter had won it at Elimination Chamber.
However, Batista lost the title to Cena at Wrestlemania, the following month.
Batista was involved in two rematches, which he both lost, resulting in the end of the three-month feud.
A risk venturing in The Deadman's yard
Batista's longest-reigning feud started in 2007 after he lost the Heavyweight title to the Undertaker at Wrestlemania 23, following which he lost his two rematches, thus briefly ending the feud.
A few months later, the feud restarted as Batista pinned the Undertaker to retain the Heavyweight title.
The feud continued and ended after three months, with Edge getting involved to win the title.
Deadman's yard 2.0
Two years later, Batista started a fresh feud with the Undertaker, when he lost the title in a Fatal-4-Way match.
Two months later, Batista faced the Deadman for the title in a chair's match to win the title.
However, Batista lost the title immediately after the match was restarted by SmackDown General Manager Theodore Long, who believed that Batista had won the match unfairly.
Time to begin The Game
This feud laid the foundation of Batista's illustrious WWE career.
During his early run in WWE, Batista aligned himself with Triple H for his newly formed stable Evolution.
After Batista won the Royal Rumble in 2007, he chose Triple H and beat him for the Heavyweight Championship at Wrestlemania 21.
The two feud thrice as Batista maintains a 3-0 clean sheet over him.
When did Batista last wrestle in WWE?
Asked 2019-03-02 19:17:53 by Surabhi Rangarajan
Answered by NewsBytes
June 1, 2014 at Payback PPV (Evolution vs SHIELD).
Who did Batista last fight in a singles match?
Asked 2019-03-02 19:17:53 by Vishal Saxena
Answered by NewsBytes
Alberto del Rio.
When was the last time Batista won the World Heavyweight Championship?
Asked 2019-03-02 19:17:53 by Ankita Venkatesan
Answered by NewsBytes
December 13, 2009 at TLC PPV against Undertaker.
Against who did Batista suffer his first singles loss?
Asked 2019-03-02 19:17:53 by Ishan Gupta
Answered by NewsBytes
Kane in Ohio Valley Wrestling (WWE's developmental territory).