ICC turns down BCCI's request of boycotting terrorism harboring 'nations'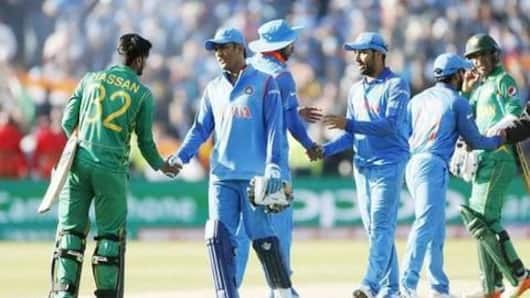 As per media reports, the International Cricket Council (ICC) has turned down the BCCI's request to boycott ties with nations which harbor terrorism.
Last month, the Indian cricket board had earlier written a letter to the ICC, proposing to take an action on such nations.
This request had come in the wake of the Pulwama terror attack, which happened on February 14.
In context
ICC won't take ahead BCCI's proposal about terrorism
BCCI was aware of ICC's decision all the way
A BCCI official said, "There was no chance that anything like that would have happened. The ICC Chairman made it clear that the decision to ostracize a nation is taken at the government level. The BCCI knew it all along but still took a chance."
Security
ICC promises tight security plan for 2019 World Cup
Meanwhile, the BCCI had also expressed concerns about security during the 2019 World Cup.
In the same light, the ICC has assured its members of a tight security plan for the mega event as the BCCI sought guarantees.
ICC Chief Executive David Richardson confirmed the same in Dubai.
Notably, the event would be held in England and Wales from May 30 onwards.
Love Sports news?
Stay updated with the latest happenings.
Notify Me
Security has been duly addressed: BCCI official
"So many players from member nations play the Pakistan Super League and they would have never entertained such a request. Yes, security was a concern and it had been duly addressed," the BCCI official was also quoted by a report in PTI.
ICC
ICC has a robust security plan, says Richardson
"As you would expect for a global sporting event, the ICC, in partnership with the ECB (England and Wales Cricket Board) has a robust security plan in place for the men's Cricket World Cup," said Richardson.
"We work closely with the authorities in our host countries to ensure that the safety of players, officials and fans is a priority," he added.
Views
What CoA chief Vinod Rai had said earlier?
Earlier, the Committee of Administrators (CoA) chief Vinod Rai has stated that Pakistan should be ostracized just like South Africa were earlier banned from international cricket, due to their policy on apartheid.
"I believe something similar needs to be done with Pakistan. They should be banned from all sporting activities just like it happened with South Africa," Rai said.
World Cup
BCCI to consult government in regards to Indo-Pak clash
Team India is scheduled to play Pakistan in the World Cup on June 16.
There were calls to boycott the match in the wake of the heightened tensions between the two nations.
Rai had earlier confirmed that the BCCI will take a call after consulting the Indian Government in regards to playing against Pakistan in the ICC World Cup 2019.
Cricket fraternity
Indo-Pak World Cup match: Here's how the cricket fraternity reacted
The reaction from the cricket fraternity has been divided.
Former players like Sourav Ganguly and Harbhajan Singh have called for boycotting the World Cup match against Pakistan.
On the other hand, legends Sachin Tendulkar and Sunil Gavaskar want India to play against their arch-rivals.
Tendulkar had said that he would 'hate' to give away two points to Pakistan in the World Cup.