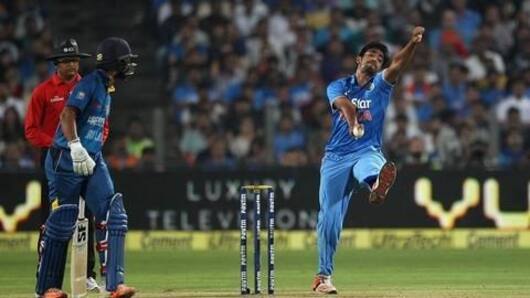 Watch: Under-13 cricketer in Hong Kong bowling like Jasprit Bumrah
Several kids, around the world, look to imitate their favorite cricketers, be it their body language, batting stance or bowling action.
And recently, a young cricketer in the Under-13 league in Hong Kong, nailed down the bowling action of Jasprit Bumrah quite perfectly.
Interestingly, this is not the first time that a kid has tried to imitate Bumrah.
Here's more.
Bumrah's action a hit among kids around the globe
Both Bumrah's unorthodox style and rising stock in international cricket have paved a way for his action to be copied by youngsters around the globe.
Prior to this incident in Hong Kong U-13 league, an Australian kid had tried to copy Bumrah's action. JB had appreciated his efforts on Twitter.
In October 2018, a Pakistani five-year-old kid had also imitated the star Indian bowler.
Love Sports news?
Stay updated with the latest happenings.
Yes, notify me
When Bumrah inspired a child in Australia
The kid is so cute . Give him my best wishes 😊.

— Jasprit bumrah (@Jaspritbumrah93) January 9, 2019
Bumrah creating a lot of impact
JB has quickly gone on to become one of the most feared bowlers, in the world, across all the three formats.
With kids wanting to bowl like him, it shows the impact he is creating with his performance.
Cricket unifies one and all and it is great to see such affection for JB.
Bumrah is currently involved in the series against Australia at home.
Bumrah has created a name for himself
The right-arm fast bowler has so far featured in 10 Tests, 45 ODIs and 42 T20Is.
He made his Test debut against South Africa in Cape Town in early 2018.
Even though, he has a long way to go, the 25-year-old has displayed his wicket taking prowess across the three formats.
We hope more kids, across the globe, get inspired by the champion bowler.
How has Jasprit Bumrah inspired young children across the globe?
Asked 2019-03-03 18:33:09 by Pranav Nair
Answered by NewsBytes
Many young kids around the globe are copying the bowling action of Bumrah. This shows his reach as a bowler.
What new video has surfaced regarding a kid bowling like Bumrah?
Asked 2019-03-03 18:33:09 by Shaurya Rangan
Answered by NewsBytes
A video has surfaced in Hong Kong where a U-13 cricketer was seen bowling similarly to that of Jasprit Bumrah.
What were the other occasions where children imitated his bowling?
Asked 2019-03-03 18:33:09 by Aadhya Dasgupta
Answered by NewsBytes
Earlier, videos surfaced in both Australia and Pakistan where children imitated his bowling.
What is Bumrah up to at the moment?
Asked 2019-03-03 18:33:09 by Pranav Chauhan
Answered by NewsBytes
Bumrah is currently involved in the ODIs against Australia.