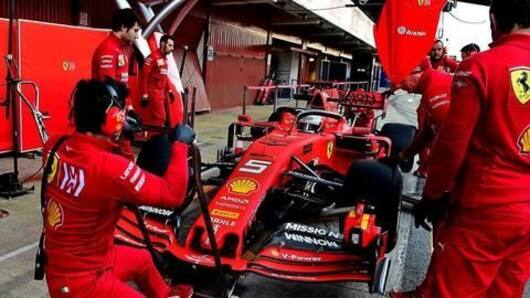 Ferrari drops tobacco branding from name ahead of Australian GP
Formula One giants Ferrari made a big move ahead of the Australian Grand Prix this month.
Ferrari has removed the Mission Winnow branding from its official team name.
This happened after an investigation by the authorities over a breach of regulations.
The name was omitted from an updated entry list published by the International Automobile Federation (FIA).
Here's more.
What led to the move by Ferrari?
Last month, a report in Fairfax revealed that the federal and Victorian health departments, besides the Australian Communications and Media Authority, were investigating the company's 'Mission Winnow' branding over a breach of regulations.
The team is now called Scuderia Ferrari.
It was formerly Scuderia Ferrari Mission Winnow.
Reports also suggest that Ferrari also removed logos from the team gear besides advertising hoardings.
Logos related to Mission Winnow won't be seen
A report in Fairfax also states that Health Minister Jenny Mikakos confirmed the Australian Grand Prix Corporation has assured the Government that the logos will no longer appear on both the cars as well as the uniforms.
Drivers' race suits and helmets will not have the logo and it's expected that the car's livery would also be tweaked.
Love Sports news?
Stay updated with the latest happenings.
Yes, notify Me
Ferrari sported the Mission Winnow logo at Japanese GP 2018
The FIA is opposed to advertisement and sponsorships of cigarettes or tobacco.
Philip Morris had re-entered Formula One back in October 2018 through its scientific research subsidiary.
From there on it branded Ferrari cars with its "Mission Winnow" logo.
At the Japanese GP in 2018, Ferrari added the logo in the car and team clothing.
This had led to eyebrows being raised.
Ferrari and the association with Philip Morris
Ferrari and Philip Morris have enjoyed a long and lucrative partnership.
There was the famed Marlboro logo during the team's success across the early 2000s.
Marlboro has been in F1 since 1972.
It was associated with McLaren before the collaboration with Ferrari.
From 2007 onwards, there were strict controls on tobacco advertising.
Ferrari replaced the Marlboro on the car with a bar code.
Ferrari renewed partnership with Philip Morris in 2017
In 2011, Ferrari went on to drop Marlboro from the team name altogether. This happened following complaints from sponsorship regulators. In September 2017, Ferrari renewed its partnership with Philip Morris and they signed a multi-year sponsorship deal. Mission Winnow described itself as a non-tobacco brand.
What did Ferrari decide in terms of renaming ahead of the Australian GP?
Asked 2019-03-05 16:55:23 by Aaradhya Trivedi
Answered by NewsBytes
The team dropped 'Mission Winnow' from its name and is now called Scuderia Ferrari, formerly Scuderia Ferrari Mission Winnow.
When did Philip Morris and Ferrari sign a deal in recent times?
Asked 2019-03-05 16:55:23 by Devansh Jaiteley
Answered by NewsBytes
Philip Morris and Ferrari signed a deal in September 2017.
When was the Mission Winnow spotted on Ferrari in recent times?
Asked 2019-03-05 16:55:23 by Aditya Venkatesan
Answered by NewsBytes
The Mission Winnow was spotted on Ferrari at the Japanese GP 2018.
When is the Australian GP starting?
Asked 2019-03-05 16:55:23 by Navya Bose
Answered by NewsBytes
The Australian GP is starting on March 17.