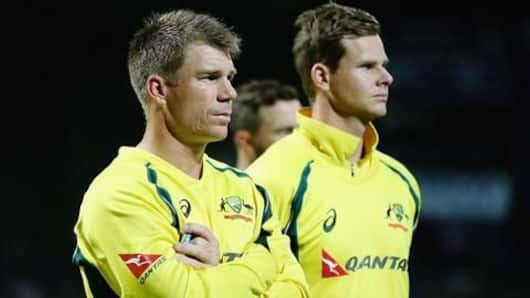 Will David Warner and Steve Smith participate in World Cup?
It has been over a year since David Warner and Steve Smith last played for Australia.
The World Cup is around the corner, and speculations are high whether the duo would make it to the squad for the mega event.
With controversy in South Africa making an impact on their career, it would be interesting to see if they make it, as we analyze.
The scars of ball-tampering controversy
The world was in shock when it was revealed that then Australia skipper Smith, along with Warner, was involved in a ball-tampering scandal in South Africa, which was inflicted by Cameron Bancroft.
Cricket Australia banned these three, and the trio is yet to make their return to international cricket, having already made a comeback in the domestic circuit.
International return: So near, yet so far
Although both Warner and Smith have almost served their respective one-year ban, they are yet to play an international match.
The duo has played domestic cricket, including T20 leagues around the world, during this period, respective injuries have delayed their international return.
Having not picked for the upcoming ODIs against Pakistan, it seems unclear whether the duo would be considered for the World Cup.
Love Sports news?
Stay updated with the latest happenings.
Yes, notify me
Will IPL 2019 performance matter for World Cup selection?
The duo is slated to play the IPL 2019 after undergoing rehabilitation following their injuries.
However, it would be interesting to see if the IPL performance would be enough for them to be considered for an international return, especially during the World Cup.
With both, IPL and World Cup being completely different (T20 and ODI), Cricket Australia would have to be careful.
Is international return during World Cup a good idea?
As much as the duo, Australia are craving for them to make their return.
However, having been out of touch from international cricket for over a year, would it be fair for them to mark their return during the marquee event?
Although their injuries have messed up the schedule, the World Cup is no platform for experiments.
Thus, Australia have a problem at hand.
Do Australia have a choice?
Australia's performance following Warner and Smith's ban has been horrendous.
Of the 14 series played across formats, Australia have managed to win just three series, while they are on the verge of losing the ongoing ODIs to India.
While considering their 14 series prior to their ban, Australia have a slightly better record, winning five of the series.
Therefore, Aussies hardly have a choice.
When does Warner and Smith's ban get over?
Asked 2019-03-08 18:09:34 by Ajay Jhadav
Answered by NewsBytes
The ban for Smith and Warner gets over on March 28, 2019.
Which T20 league did both Warner and Smith last play?
Asked 2019-03-08 18:09:34 by Ayaan Dutta
Answered by NewsBytes
Smith and Warner last played the Bangladesh Premier League (BPL) in January 2019.
Which IPL teams do Warner and Smith play for?
Asked 2019-03-08 18:09:34 by Ajay Mistry
Answered by NewsBytes
Warner plays for Sunrisers Hyderabad, while Smith plays for Rajasthan Royals (RR) in the IPL.
Did Warner and Smith play the IPL last season?
Asked 2019-03-08 18:09:34 by Vibhore Malik
Answered by NewsBytes
Warner and Smith did not participate in IPL 2018 owing to their respective bans by CA, while they were not given NOC by CA either.