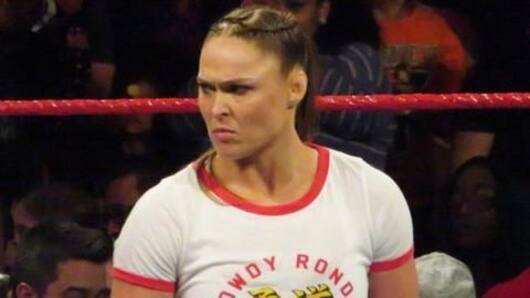 Did Ronda Rousey invite trouble following her latest outburst?
Ronda Rousey is one of the top WWE superstars, not just in the women's division, but in the entire industry.
Being termed as the 'Baddest Woman on the Planet', Ronda clearly has indicated that she is done playing nice. She would like to be bad and tough, as she does things her way from hereon.
Recently, she exposed WWE by saying it's all scripted.
Rousey is tired of entertaining people
In the latest episode of Ronda On The Road, she revealed that she is frustrated with WWE's creative team.
She also used harsh words for Becky Lynch, who had made fun of her on Twitter, owing to which she beat her up on Raw.
She added that she is tired of entertaining people, while she also degraded other women in the roster.
Ronda to do what she wants, how she wants
Speaking on her latest actions, Ronda said, "I'm not going out there and doing their f*cking act anymore. They can say it's part of an act to save face, but it's not. I'm going out there and doing whatever the hell I want."
Love Sports news?
Stay updated with the latest happenings.
Yes, notify Me
Is this all an act, or is Ronda going off-script?
While Ronda continues to claim that she is done following the orders of WWE and its creative team, it is being speculated that it is an act, which is being done as per WWE's orders.
Another thing, to be noted is WWE superstars need to maintain their kayfabe outside the ring, therefore chances are high that it is all an act.
If off-script, will there be repercussions for Ronda?
Despite being speculated that it is all an act by Ronda, there could be chances that Ronda could go off-script.
If that happens, WWE is bound to take action against Ronda.
As for the actions, WWE might suspend her until WrestleMania 35, as they don't want to jeopardize the main event.
However, WWE could release her following the end of the event.
As of now, Ronda is set to main event WrestleMania
Keeping aside Ronda's recent outbursts, she is all set to headline WrestleMania next month.
While she would be defending her Raw Women's Championship against Charlotte Flair, the match could become a triple-threat if Becky manages to beat Charlotte at the Fastlane pay-per-view.
Fastlane takes place this Sunday at the Quicken Loans Arena in Cleveland, Ohio at 6.30 AM (IST).
How many PPV's to go before Wrestlemania?
Asked 2019-03-08 19:52:32 by Vihaan Powar
Answered by NewsBytes
Fastlane would be the final PPV before Wrestlemania.
Where would Wrestlemania be held this year?
Asked 2019-03-08 19:52:32 by Reyansh Jaiteley
Answered by NewsBytes
Wrestlemania would be held at the Metlife Stadium in New York on April 7.
Why did Charlotte replace Becky for Wrestlemania?
Asked 2019-03-08 19:52:32 by Diya Yadav
Answered by NewsBytes
Since Becky was suspended for abusing the authority, Vince McMahon suspended her, while putting Charlotte against Ronda for Wrestlemania.
Is Fastlane's match between Charlotte and Becky a normal match or no disqualifications?
Asked 2019-03-08 19:52:32 by Aaryan Dasgupta
Answered by NewsBytes
Charlotte and Becky would fight in a normal match at Fastlane ppv.