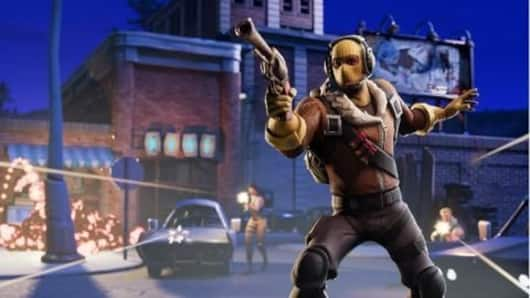 #GamingBytes: Five tips to play 'Fortnite' like a pro
Fortnite by Epic Games has cemented its position as one of the most popular Battle Royale games.
Both the exciting content and the fun gameplay increase the game's popularity, drawing new players every day.
Thus newcomers might find it hard to win the Victory Royale in the game.
To help, we bring five tips to play Fortnite Battle Royale like a pro.
Aggression is the key to mastering the Battle Royale
A lot of newcomers tend to avoid firefights in Fortnite, for fear of dying.
In survival based Battle Royale, aggression might seem counter intuitive.
However, the smart move is to rush into firefights.
The more engagements you get into, the better your anticipation of enemy actions and reflexes will get.
Within no time, you will find yourself improving and, besting your enemies.
Always shield up before anything else to last longer
As soon as you land, your aim should be to consume a shield potion.
At the start of the game, your health bar is full while your shield bar needs to be filled.
When you fill it, the shield bar protects you during firefights, getting expended before the health bar takes damage.
Thus always shield up in order to last longer in Fortnite.
Love Sports news?
Stay updated with the latest happenings.
Yes, notify me
Keep inventory slots fixed for easy access of items
Fortnite allows you to access your inventory with quick keys.
Pros always fix their inventory in a certain manner.
For example, the first couple of slots are allocated for weapons, followed by healing items and then traps.
Always keep inventory slots fixed so you can get the item you immediately need during urgent firefights.
There is nothing worse than dying due to inventory mismanagement.
Always keep building structures in Fortnite
Constantly building structures is a key aspect if you want to win the Victory Royale.
You do not even have to construct elaborate forts, even simple structures like a wall, or a ramp or even a flight of steps can give you an unexpected offensive or defensive advantage in combat.
This could make a world of difference between winning or losing the Battle Royale.
Fix a position while engaging with the enemy
Strafing and firing might make it difficult for the enemy to hit you, but it also makes your shots more inaccurate.
If you wish for your bullets to land on your opponents, then crouch and open fire to ensure greater accuracy.
However, ensure that you are not crouching out in the open because then you will become an easy target for the retaliating enemy.
When did Fortnite initially launch?
Asked 2019-03-10 01:57:11 by Harini Chavan
Answered by NewsBytes
Fortnite launched on July 25, 2017.
Who are the developers of Fortnite?
Asked 2019-03-10 01:57:11 by Cheshta Chatterjee
Answered by NewsBytes
Epic Games developed Fortnite.
Which platforms is Fortnite available for?
Asked 2019-03-10 01:57:11 by Paridhi Shah
Answered by NewsBytes
Fortnite is available on mobile, Xbox, PS4 and PC.
What are the game modes in Fortnite?
Asked 2019-03-10 01:57:11 by Rishika Banerjee
Answered by NewsBytes
Fortnite's game modes include Save the World and Battle Royale.