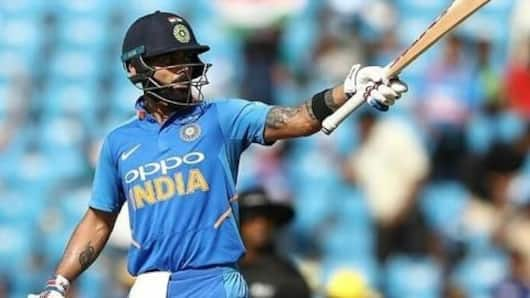 Has Shane Warne decoded Virat Kohli's weakness?
Indian skipper Virat Kohli is, undoubtedly, the best batsman in world cricket today.
Be it any format of the game, Kohli is a thorn in the bowlers' flesh as they struggle to get him out every single time he comes out to bat.
However, Australian spin legend Shane Warne thinks he might have a way to restrict Kohli and get him out.
Do not attack; protect both sides of the wicket
Warne feels that the mistake most of the bowlers do against Kohli is attacking him.
Instead, he feels that using both sides of the wickets is a viable option.
Warne feels that teams should make him lay either on off or leg side, along with enough protection to restrict his scoring abilities.
Further, since he can score on both sides, no bowling straight.
Love Sports news?
Stay updated with the latest happenings.
Yes, notify me
Kohli seems to have answers for all the plots
No matter what the plot is, Kohli seems to have all the answers.
Since 2016, Kohli has faced 64.95% of the balls outside off while 31.01% have been straight.
He has responded to the outside-off balls with an average of 85.76, only slightly lower than his overall average of 88.55.
Interestingly, Australia have bowled 51.15% of the deliveries outside in the ongoing ODI series.
Kohli is GOAT? Warne confused!
I just got asked if I thought @imVkohli is better than @BrianLara or @sachin_rt
Let me think about that and come back to you I said. @ivivianrichards to me was the best batsman after Bradman, but in modern times mmmmm. Tough one ! Thoughts followers whilst I contemplate ?

— Shane Warne (@ShaneWarne) March 9, 2019
King Kohli to rule for quite some time now
No matter how hard one plots or how much one likes or hates him, Kohli is undoubtedly the GOAT of modern cricket.
He is ready to rule for a long time.
While he scripts records in almost every single game he plays, there would be no harm in saying that Kohli is already a legend and is a future Hall of Famer.
Kohli sets himself apart from everyone else
Warne, speaking on Kohli, says, "You know records are different in different eras and it's very hard to judge. All you can judge is how a player is in their era, and Virat Kohli is so far ahead in one-day cricket than everybody else."
Which IPL team does Virat Kohli play for?
Asked 2019-03-10 15:59:05 by Abhinav Tambe
Answered by NewsBytes
Kohli plays for Royal Challengers Bangalore (RCB) in the IPL.
How many World Cups has Kohli played?
Asked 2019-03-10 15:59:05 by Paridhi Rathore
Answered by NewsBytes
Kohli ha splayed two World Cups to date (2011 & 2015).
Which central contract does Kohli possess?
Asked 2019-03-10 15:59:05 by Vivaan Yadav
Answered by NewsBytes
Kohli is part of BCCI's A+ central contract, worth Rs. 7 crore.
Has India won any ICC tournament under Kohli's leadership?
Asked 2019-03-10 15:59:05 by Hemant Rodrigues
Answered by NewsBytes
No, Kohli is yet to win an ICC tournament under Kohli's leadership.