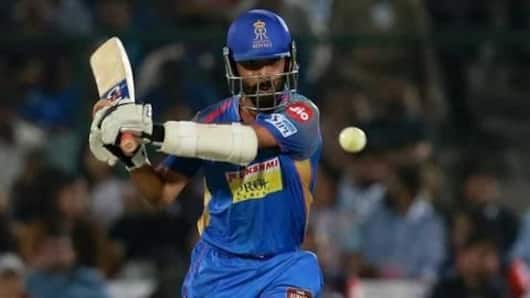 Rahane feels IPL will help him earn World Cup berth
Senior Indian cricketer Ajinkya Rahane is keen to focus on the upcoming season of the Indian Premier League (IPL).
The Rajasthan Royals player, who hasn't been a part of India's ODI squad since a while now, is targeting the IPL to force his way back.
Rahane will be eyeing the number four position, which is still up for grabs.
Here's more.
For Rahane, the focus is on IPL
Speaking to IANS, Rahane said, "I feel it is important to express yourself and not take any undue pressure thinking about things which aren't in your control. The focus is the IPL."
'A strong IPL will see World Cup slot come automatically'
"The approach won't be any different with the World Cup spot looming because at the end of the day you are playing cricket, be it the IPL or any other tournament. You have to score runs. The most important thing will be to think about RR. See, if I do well in the IPL, the World Cup (slot) will automatically come," said Rahane.
Love Sports news?
Stay updated with the latest happenings.
Yes, notify me
What's the situation with number four in batting for India?
India tried out a host of names as far as the number four batting position is concerned.
They finally identified Ambati Rayudu. But the veteran hasn't been consistent this year.
Apart from a few knocks against New Zealand this year, Rayudu struggled against quality attack.
In the recently concluded ODI series against Australia, Rayudu flopped in three consecutive matches and was benched thereafter.
Why can't India have experienced MSD at number four?
This is an interesting question and this week Anil Kumble batted for MS Dhoni to come in at number four.
The move will allow the likes of Kedar Jadhav, Dinesh Karthik and Hardik Pandya to follow suit and apply the finishing touches.
Rayudu is expected to be chosen for the World Cup though and he can come on from the bench if required.
What had Kohli stated ahead of the Australia series?
Virat Kohli had said that IPL 2019 will have no impact on the World Cup squad.
"Before we head into the IPL, we need to be absolutely clear of what team we want for the World Cup. If one or two players don't have a good IPL season, it doesn't mean that they are out of the picture," said Kohli.
How has Rahane fared for India in ODIs?
Rahane was once a trusted lieutenant in ODIs.
He has played in 90 matches and can ably handle press situations.
With three hundreds at an average of 35.26, Rahane has managed 2,962 runs.
He was a regular since 2014.
In 2017, Rahane was in supreme form against West Indies and Australia.
He scored a ton and seven fifties in 10 matches.
Rahane lost his place in 2018
Rahane was surprisingly left out against New Zealand and Sri Lanka for the ODI series at home post his success against Australia.
He came back in 2018 and started well against South Africa with a splendid 79.
Post that scores of 11, 8, 8 and 34* changed the mindset of the selectors.
Rahane was omitted from the ODI squad and never returned.
Rahane is not the preferred choice: Our take
Despite MSK Prasad claiming earlier that Rahane could be in the reckoning, the decision to omit him from the ODIs against Australia told that he isn't in the plans.
Moreover, Kohli's statement indicated that India have identified the players.
After the ODIs against Australia, Kohli said that only one position is likely to be discussed.
And that's the slot regarding Rishabh Pant versus Karthik.
When does the IPL 2019 season start?
Asked 2019-03-16 16:52:38 by Vibhore Venkatesan
Answered by NewsBytes
The IPL 2019 season starts from March 23 onwards.
When did Ajinkya Rahane last feature in ODIs?
Asked 2019-03-16 16:52:38 by Diya Balasubramanium
Answered by NewsBytes
Ajinkya Rahane last featured in ODIs against South Africa last year.
What has Rahane stated about forcing his way back?
Asked 2019-03-16 16:52:38 by Shreya Rangarajan
Answered by NewsBytes
"The most important thing will be to think about Rajasthan Royals rather than thinking too much about the road ahead. See, if I do well in the IPL, the World Cup (slot) will automatically come," Rahane said to IANS.
How many ODI matches has Rahane played in his career?
Asked 2019-03-16 16:52:38 by Surabhi Trivedi
Answered by NewsBytes
He has played a total of 90 ODIs for India.