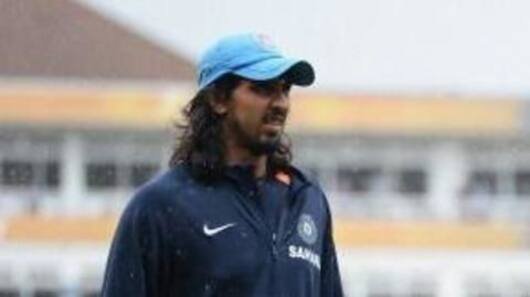 Can Ishant Sharma make it to World Cup squad?
With less than 90 days to go for the ICC World Cup, India have already decided the core of the squad.
Nonetheless, there are a couple of players who believe they can make it to the team based on their performance in the IPL.
Ishant Sharma is one such player who is dreaming of a World Cup spot, but can he seal his berth?
Team India is looking for a fourth pacer: Sharma
Speaking on his World Cup chances, Sharma said, "I am a positive guy and always think something good is going to happen. I have opportunities to avail in this IPL. The Indian team is still looking for a fourth seamer."
Ishant has hardly played limited-overs cricket over the past years
While Ishant's last international outing was during India's historic Test series win in Australia, he has hardly played white-ball cricket in the last couple of years.
Ishant's last ODI assignment was back in 2016 during Australia tour, where, in four matches he claimed nine wickets at an average of 27.77 and had the third-best economy of 6.25.
Since then, has been out of flavor.
Love Sports news?
Stay updated with the latest happenings.
Yes, notify me
Ishant has hardly played in England
Considering Ishant's ODI performance in England, he has played five matches to date, where he claimed ten wickets at an average of 21.80 and an economy of 5.73.
Further, if we talk about his ODI performance outside Asia, he has played 38 matches and picked up 56 wickets at an average of 28.75.
Overall, he has been an average performer in ODIs.
Ishant has a below-par performance in IPL
While Ishant believes a good performance in IPL 2019 could turn his fortunes, his records say a different story.
Having played 76 matches, he just has 59 wickets at an average of 37.81 and an economy of 8.17, which is not at all impressive.
Moreover, he finished the 2017 season for Kings XI Punjab (KXIP) without a wicket in six matches.
Ishant not likely to be part of World Cup squad
While Ishant continues to remain hopeful, the records and stats have so far proved that his chances of making to the Indian World Cup squad look bleak, while the side has far better bowlers than him, currently.
Moreover, just based on IPL 2019 performance for Delhi Capitals (DC), it hardly looks like the selectors would risk playing him in the coveted tournament.
Has Ishant Sharma played a World Cup before?
Asked 2019-03-18 18:27:57 by Tejas Gavde
Answered by NewsBytes
No, Ishant has not played a World Cup to date.
Which team will Ishant initially played for in the IPL?
Asked 2019-03-18 18:27:57 by Hansika Kapoor
Answered by NewsBytes
Ishant initially played for Kolata Knight Riders (KKR) in the IPL.
Which was Ishant's last List-A match?
Asked 2019-03-18 18:27:57 by Diya Pawar
Answered by NewsBytes
Ishant last played a List-A match in June 2018 for Sussex.
Where is Ishant originally from?
Asked 2019-03-18 18:27:57 by Trishla Jayaraman
Answered by NewsBytes
Ishant is originally from Delhi.