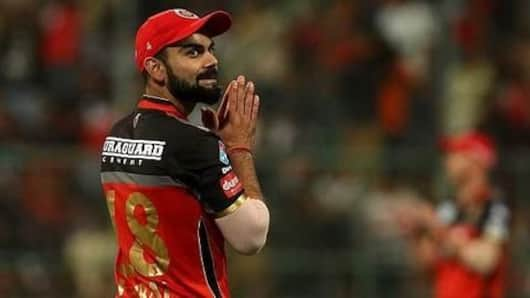 Virat Kohli lucky to continue as RCB skipper: Gautam Gambhir
While the IPL is about to get 12-year old, Virat Kohli too will be playing the tournament for the 12th time.
However, he is yet to lay his hands on the grand trophy, despite captaining Royal Challengers Bangalore (RCB) for almost seven years.
In the same light, former cricketer Gautam Gambhir feels that Kohli should be thankful to RCB for letting him continue.
Kohli yet to taste success as skipper in IPL
While Kohli might have had success as the skipper at the international level, he is yet to taste success in the IPL.
He was appointed as the permanent captain in 2013, but he had occasionally led the side from 2011 to 2013.
Under him, RCB have managed to reach the final just once, in 2016, where they lost to Sunrisers Hyderabad (SRH).
Kohli: The third most experienced captain in the IPL
Talking about Kohli's IPL record, he is the third most experienced captain in the tournament after MS Dhoni and Gambhir.
Dhoni has led Chennai Super Kings and Rising Pune Supergiant in 159 matches and won 94 matches at a success rate of 59.49%.
On the other hand, Gambhir has captained in 129 matches and won 71.
Captain Kohli has a win percentage of 48.38%.
Love Sports news?
Stay updated with the latest happenings.
Yes, notify me
Kohli has a long way to go as captain: Gambhir
On Kohli's IPL captaincy, Gambhir said, "Still a long way to go. I don't see him as a shrewd captain or a tactful captain as well. So ultimately a captain is only as good as his record till the time you don't win the IPL."
Without IPL win, Kohli cannot be compared to other skippers
Gambhir also said that Kohli's comparison with other skippers like Dhoni and Rohit Sharma makes no sense as he is yet to win the title.
Moreover, Gambhir said that usually a captain does not stick around for so long, without winning a title in seven or eight years.
Therefore, Gambhir feels that Kohli is extremely lucky that RCB believe in him.
Can Kohli change RCB's fortunes in IPL 2019?
While it seems that RCB continue to possess enough star power in their arsenal, they are still not favorites to win the title. Kohli's captaincy and inability to take right decisions under pressure situations were responsible for the disastrous campaigns in 2016 and 2017.
Who was the initial captain of RCB?
Asked 2019-03-19 12:31:40 by Angel Gavde
Answered by NewsBytes
RCB was initially led by Rahul Dravid, in 2008.
Where did RCB finish last year?
Asked 2019-03-19 12:31:40 by Shaurya Tata
Answered by NewsBytes
RCB finished in the sixth spot in IPL 2018.
Is AB de Villliers in the RCB squad this year?
Asked 2019-03-19 12:31:40 by Shreyas Sarin
Answered by NewsBytes
Yes, de Villiers is in the RCB squad for IPL 2019.
How many IPL finals have RCB played?
Asked 2019-03-19 12:31:40 by Shreya Jaiteley
Answered by NewsBytes
RCB have played three IPL finals to date (2009, 2011 and 2016).