WWE: Five possible feuds for AJ Styles
Sports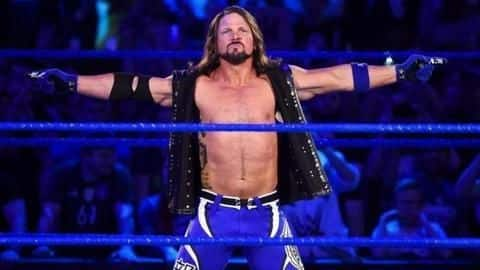 While there were reports that former champion AJ Styles is yet to sign a contract extension with WWE, it was also rumored that he could be AEW bound.
However, all of these speculations were laid to rest after Styles confirmed on Monday that he had indeed signed a fresh contract with WWE.
With that being done, let us analyze his possible feuds.
Daniel Bryan
End Daniel Bryan's false movement
This was the feud that saw the beginning of a 'New Daniel Bryan' as the WWE Champion, and it was indeed one of the interesting rivalries in the career of Styles.
Reviving the rivalry would again give Styles the edge and momentum towards a shot at the WWE Championship, provided Bryan retains it at WrestleMania 35 against his likely opponent, Kofi Kingston.
Kofi Kingston
A feud made in paradise
Kofi Kingston is the man rumored to face Bryan at WrestleMania and dethrone him as the champion.
Further, Kofi is scheduled to be in a gauntlet match on SmackDown this week, where he faces Randy Orton.
Orton is opponent of Styles at WrestleMania, therefore he could interfere to help Kofi win, while he could use this reason to set up a feud with Kofi.
Brock Lesnar
Slay the beast
Assuming the reports are true, Brock Lesnar is leaving WWE post WrestleMania.
However, in case he decides to stay, it makes sense that both these men have a go at each other.
While Lesnar has an upper hand over Styles as of now, courtesy his win at Survivor Series, Styles came close as he took Lesnar to his limit.
Therefore, unfinished business awaits Styles.
Seth Rollins
Burn it down
Amidst the reports of Lesnar leaving, Seth Rollins is currently scheduled to face him at WrestleMania for the Universal Championship and win it.
Following that, Styles could switch brands during the Superstar Shake-up and challenge Rollins for the championship.
Although these men haven't had a one-on-one feud in WWE to date, Rollins had earlier said that he surely wants to face Styles.
Roman Reigns
The Big Dog's yard to the House that Styles built
These men have gone at each other in the past as Roman Reigns was one of his opponents during initial days of Style.
Having failed to beat Roman on two occasions, Styles does have some unfinished business with The Big Dog.
While Reigns claims that it's his yard now, the rivalry could well be for whose house it actually is.

Arjun Chopra
Asked on 19 March, 2019
When is WrestleMania 35?

Answered by
NewsBytes
WrestleMania 35 is on April 7, 2019.
Rakesh Tata
Asked on 19 March, 2019
When did AJ Styles make his WWE debut?

Answered by
NewsBytes
Aj Styles made his WWE debut at Royal Rumble 2016.
Devansh Saxena
Asked on 19 March, 2019
Which brand is Styles currently in?

Answered by
NewsBytes
Styles currently is on the SmackDown brand.
Aadhya Chopra
Asked on 19 March, 2019
Where was Styles prior to WWE?

Answered by
NewsBytes
Styles used to wrestle for TNA/Impact Wrestling before WWE.