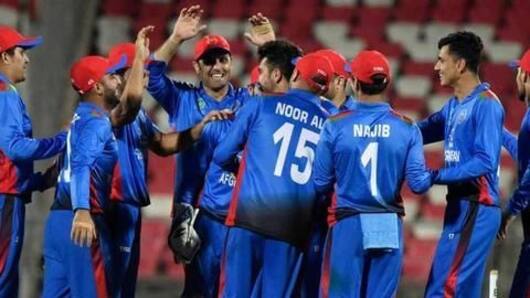 ICC World Cup 2019: Can fearless Afghanistan scale new heights?
In less than 70 days, the ICC World Cup 2019 is set to get underway in England.
Apart from the top teams, there are a few minnows who could put up a stellar performance.
One such nation is Afghanistan, which has scaled new heights in world cricket in a short time.
But, can they do the same in the World Cup? We analyze.
Afghanistan, a force to reckon with since 2009
Afghanistan were granted the ODI status in 2009, and have since been a force to reckon with.
They were also granted the Test status in 2017 and have produced many world-class payers, including Rashid Khan.
They also played the 2015 World Cup, but were ousted in the group stage.
While they lost their maiden Test to India, they won the second against Ireland recently.
Love Sports news?
Stay updated with the latest happenings.
Yes, notify Me
Afghanistan aim to play fearless cricket in World Cup
With the World Cup being their next big venture, Afghanistan would be looking to play fearless cricket, as they have time and again proved that they have the talent to upset the top teams.
Meanwhile, Rashid feels that Afghanistan have nothing to fear in the World Cup, while he also believes that the side has the required skills to perform in England.
Afghanistan look to repeat Asia Cup performance in World Cup
Speaking on Afghanistan's performance in the upcoming World Cup, Rashid said, "The only thing is to believe in your skills. Just to be relaxed in big matches and enjoy your game. And, that's how we should be in the World Cup."
Afghanistan have been on the rise since 2017
Considering Afghanistan's ODI performance since 2017, they have played 41 matches, winning 22 and losing 16.
While they have registered the most number of wins against Ireland (nine of 17), they have won the most number of matches in Zimbabwe (seven of 12).
They have won five of their ten matches at home and losing four.
They are ranked 10th in the ICC Rankings.
IPL and other T20 league experience helping players
Few of the Afghan players have made a name for themselves, namely Rashid and Mohammad Nabi, by playing in various T20 leagues around the world.
Rashid feels that the IPL experience has helped them develop more as players.
Rashid said performing on flat wickets in the IPL gives him immense confidence, along with improving skills by working under different coaches.
Are Afghanistan the dark horses this term?
While there are many big teams which are being considered as favorites for the World Cup, namely India and England, with Australia being the defending champion, Afghanistan are considered as the dark horses by many.
Although Afghanistan have been playing tremendous cricket of late, the chances of them winning the World Cup look impossible.
Yet, their best shot could be qualifying for the semis.
When does the World Cup get underway?
Asked 2019-03-20 18:17:06 by Ananya Chattopadhyay
Answered by NewsBytes
ICC World Cup 2019 gets underway from May 30.
Which was Afghanistan's last ODI series win?
Asked 2019-03-20 18:17:06 by Pari Jain
Answered by NewsBytes
Afghanistan's last ODI series win was against Ireland in India this month.
Who is the captain of Afghanistan?
Asked 2019-03-20 18:17:06 by Pari Rangarajan
Answered by NewsBytes
Afghanistan is led by Asghar Stanikzai.
Has Afghanistan ever won the Asia Cup?
Asked 2019-03-20 18:17:06 by Shaurya Sen
Answered by NewsBytes
No, Afghanistan is yet to win the Asia Cup.