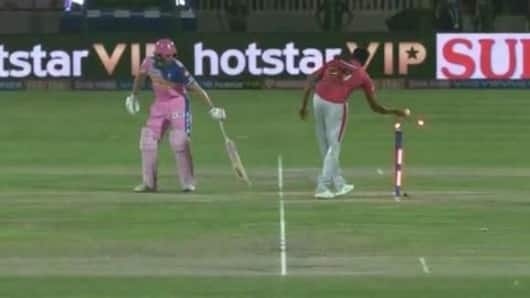 Did Ashwin go against IPL's norm of 'No Mankading'?
The world is abuzz following the latest incident of Mankading in the ongoing IPL.
Ashwin is being blamed for a cowardly act and playing against the 'spirit of the game', but the fans are split as to whether Ashwin was right at doing so.
Meanwhile, IPL Chairman Rajeev Shukla has said that it was pre-decided not to have Mankading in the IPL.
Here's more.
Ashwin Mankads Jos Buttler, the first instance in IPL
It all happened during the 13th over, while Ashwin was on his run-up to bowl to Sanju Samson, when Buttler left his crease at the non-striker's end, even before Ashwin had released the delivery.
Ashwin didn't complete his delivery and promptly noted action of Buttler to clip the bails.
The umpire referred it upstairs, where the third umpire, after reviewing it, declared Buttler out.
IPL Chairman says that it was pre-decided not to Mankad
In the latest development, Shukla has said that prior to one of the editions of the IPL, it was decided that there would be no Mankading in the league.
Shukla also said that the decision was taken in the presence of top players like MS Dhoni and Virat Kohli.
Therefore, the question arises that did Ashwin go against the norm?
Love Sports news?
Stay updated with the latest happenings.
Yes, notify Me
'No run out in IPL via Mankading'
If I remember in one of the meetings of captains match referee where I was also present as chairman it had been decided that if non striking batsman steps out bowler as a courtesy will not run him out @IPL @BCCI

— Rajeev Shukla (@ShuklaRajiv) March 25, 2019
Will Ashwin be penalized for going against IPL's norm?
As Shukla confirmed that the decision was taken seasons ago, not to Mankad in IPL, the question arises that why did Ashwin still go ahead with it.
While it could have been instinctive, or Ashwin had forgotten the norm, it might be likely that he could be questioned by the IPL committee.
He might also be let off with a warning, rather being penalized.
Should Mankading be allowed in cricket?
While it continues to be a debatable topic since ages, Mankading has been legal in cricket for a long time.
Although it is considered against the game's spirit, certain players continue to use the method instinctively.
While the decision may vary, the law was formulated to prevent batsmen from taking undue advantage while taking runs.
Therefore, the author feels Ashwin didn't do anything wrong.
How much did Buttler score last night?
Asked 2019-03-26 18:33:56 by Navya Singhal
Answered by NewsBytes
Buttler scored 69 off 43 deliveries last night.
Who won the match between KXIP and RR?
Asked 2019-03-26 18:33:56 by Rajesh Nair
Answered by NewsBytes
KXIP won the match by 14 runs, against RR.
Has Buttler been Mankaded before?
Asked 2019-03-26 18:33:56 by Diya Jain
Answered by NewsBytes
Yes, Buttler was Mankaded before, during an international match against Sri Lanka.
Whom did Buttler play for in IPL 2018?
Asked 2019-03-26 18:33:56 by Aaradhya Bose
Answered by NewsBytes
Buttler played for KXIP in IPL 2018.