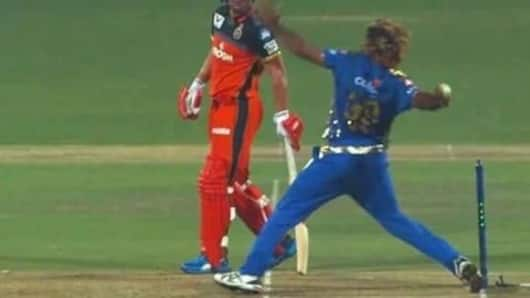 RCB vs MI: After no-ball controversy, what should IPL do?
The IPL 2019 is already off to a controversial start.
Match number seven between Royal Challengers Bangalore and former champions Mumbai Indians saw a controversy erupting when a no-ball in the final moments of the match went unnoticed by the umpire.
In what is believed to be a match-turning moment, as MI won by six runs, we analyze how to avoid such controversies.
Malinga's no-ball goes unnoticed, MI steal win under RCB's nose
It all happened in the final over of the match at the M Chinnaswamy Stadium in Bengaluru, when RCB needed seven off the final ball.
With Shivam Dube on strike, he struck hard but could only steal a single, as MI won.
However, the replays showed that Malinga had overstepped by an inch, but it went unnoticed to the eyes of umpire S Ravi.
Kohli furious, says this is not club cricket
Kohli expressed his displeasure, as he said, "We are playing at IPL level, not club cricket. That's just a ridiculous call off the last ball. The umpires should have their eyes open, it was a no-ball by an inch. It's a completely different game altogether."
Love Sports news?
Stay updated with the latest happenings.
Yes, notify me
Umpiring in IPL has been questionable
While it is clearly the umpire's fault, who missed out on calling the no-ball, mistakes do happen on their part as they are humans.
However, this is not the first time in IPL. There have been numerous instances when the umpires have made wrong calls.
And, with most of the umpires being of Indian origin, it is the Indian umpiring that has been questionable.
Why Indian umpiring is in question?
Post this controversy, the state of umpiring has come into limelight.
Unlike initial seasons, the IPL is now using the services of Indian umpires to give them exposure to competitive cricket.
While few of the umpires have officiated in international cricket, most of them are still new.
They should remain vigilant during these matches, and consult the third umpire in case of a doubt.
Technology to detect no-ball should be implemented
While new techniques are being used across formats to avoid umpiring howlers and make the game cleaner, it is time that the technology to detect the no-ball is implemented by the body.
Notably, there is no method to date to detect a no ball, but the concept from football's goal-line technology could be used to detect where the bowler's foot lands during the delivery.
What is goal-line technology?
The goal-line technology is a feature that is used in football, with sensors being placed across the goal-line of the post.
The job of the technology is to detect if the ball has completely rolled in past the goal-line, in which case, it stands as a goal.
The sensor sends a message to the referee's watch, who declares the goal.
Will a similar technology work in cricket for no-ball?
Indeed, the technology is an advanced one which has been implemented after several tests in the USA.
While it is a globally accepted method in football, it needs to be somewhat modified for detecting the no-ball.
It needs to make sure that it detects the point where the bowler's feet lands, unlike in football where it detects the ball's roll-up.
Who was at the non-striker's end during the no-ball?
Asked 2019-03-29 16:47:10 by Rakesh Nair
Answered by NewsBytes
AB de Villiers was at the non-striker's end during the no-ball.
Hoe much did ABD score?
Asked 2019-03-29 16:47:10 by Ridhi Sen
Answered by NewsBytes
De Villiers scored an unbeaten 70.
Is IPL using DRS?
Asked 2019-03-29 16:47:10 by Pari Sengupta
Answered by NewsBytes
Yes, DRS is being used in the IPL since 2017.
What technologies are being used in IPL?
Asked 2019-03-29 16:47:10 by Surabhi Mehra
Answered by NewsBytes
Technologies like Hawk-eye and Ultraedge are being used in IPL 2019.