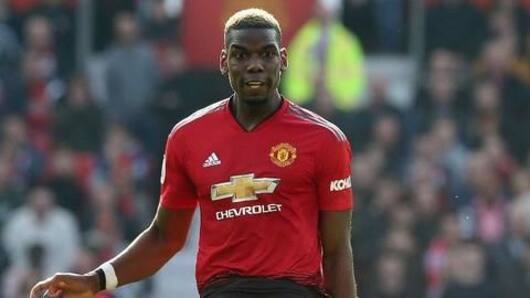 Zidane wants Pogba at Real Madrid post Manchester United experience
Real Madrid manager Zinedine Zidane has praised Manchester United mid-fielder Paul Pogba.
The Frenchman, who returned to Madrid after less than 10 months post a sabbatical, has said that Pogba brings so much as a player.
Pogba, who has been linked with a move to Real, had earlier said that he would love to work under Zidane.
Here's more.
Zidane lauds 26-year-old Pogba
"I know him personally. He brings so much and there are few players who bring as much as he does. He's a mid-fielder who knows how to defend and how to attack," said Zidane to BBC.
Love Sports news?
Stay updated with the latest happenings.
Yes, notify Me
Why not come here to Madrid?: Zidane on Pogba
Zidane pointed out that Real had always been of Pogba's interest and said that the player can come to Spain after his stint at United.
"But he is not my player, he is at Manchester. He has always said that, after Manchester, Madrid has always interested him. So when his experience at Manchester ends, why not come here to Madrid?"
Pogba was linked to Real after strained relation with Jose
Academy player Pogba rejoined United in the summer of 2016 from Juventus in a staggering £89m deal.
He spent four seasons in Turin and won a host of trophies.
After a productive first season at United, Pogba saw his relation with former manager Jose Mourinho get strained.
That saw him being linked with a move to Spain in the upcoming summer.
Things have changed under Ole Gunnar Solskjaer since then
Since Ole Gunnar Solskjaer took over from Jose in December 2018, Pogba went on to become the fulcrum.
He has been among the goals and assists and Solskjaer has instilled plenty of confidence in him.
Pogba had also wanted Solskjaer to be named as permanent manager and his wish came true.
The mid-fielder is pivotal for United under Solskjaer's tenure.
What had Pogba said regarding Real Madrid?
When asked about his thoughts on suitors Real Madrid, the player said, "Real Madrid is one of the biggest clubs in the world. I've always said it is a dream club for every player." But he added that he is happy at Manchester United.
Pogba could be tempted to join Real in the future
Pogba is currently in the third year at United and sees his deal expire in 2021.
United aren't in hurry to hand him another deal at the moment.
Having said that, they will look to offer Pogba a new contract perhaps next season to fend off any interest from Real.
But there is a possibility that Pogba will one day move to Madrid.
When will Pogba's contract at Manchester United end?
Asked 2019-03-31 17:04:09 by Surabhi Shah
Answered by NewsBytes
Pogba's contract at Manchester United will end in the year 2021.
Which year did Pogba rejoin United from Juventus?
Asked 2019-03-31 17:04:09 by Divya Jhadav
Answered by NewsBytes
Pogba came to United in 2016 from Juventus.
What has Zidane said about Pogba?
Asked 2019-03-31 17:04:09 by Hemant Nair
Answered by NewsBytes
Zidane has praised Pogba and said that he can come to Real once his experience at United ends.
What had Pogba said about Real earlier?
Asked 2019-03-31 17:04:09 by Ananya Gavde
Answered by NewsBytes
Pogba had said that it's every player's dream to play for Madrid.