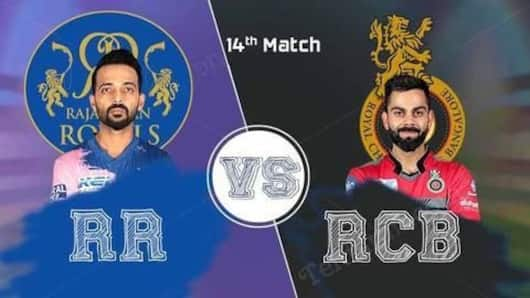 RR vs RCB: Key players to watch out for
The IPL 2019 continues to create immense hype all around.
In match number 14, former champions Rajasthan Royals (RR) take on Virat Kohli-led Royal Challengers Bangalore (RCB) at the Sawai Mansingh Stadium in Jaipur on Tuesday.
As both the teams look for their opening win of the season, let us analyze a few players who could make an impact in this all-important match.
A point to prove for the English all-rounder
Rajasthan's English all-rounder Ben Stokes was one of the costliest players of RR.
While he has not had the greatest of starts in the tournament so far, he did manage to make an impact in the last game.
He scored a 26-ball 46 in the last game against CSK, and also claimed a wicket.
He would look to do the same again.
Love Sports news?
Stay updated with the latest happenings.
Yes, notify Me
Can the rookie prove himself once again?
Among the rookies in the side, top-order batsman Rahul Tripathi managed to come up with some good batting display in the last game.
Having scored a 24-ball 39, Tripathi would look to make it even better against RCB.
Also, with this being a home tie, he would surely look to attack the RCB bowlers.
Therefore, we do have our eyes on him.
Another bowling domination from the Barbadian?
Rajasthan's bowling all-rounder from Barbados, Jofra Archer, has been one of the prime bowlers for the side in the tournament so far.
Although he hasn't spoken much with his bat, he has been the third-most successful bowler for the side in this edition so far.
Moreover, his spell of 2/17 in the last match was vital, as he looks to dominate again.
Can Colin come up with another 'Grand' performance?
As RCB succumbed to one of their worst defeats in the IPL in their last tie, it was Kiwi all-rounder Colin de Grandhomme who put up the fight.
Although he was the top scorer for the side, scoring 37, he just bowled an over, where he gave away 16.
Nonetheless, he would look to turn the tide and steer RCB to a 'Grand' victory.
The leggie looks to spin the yarn for RCB
In the troubled RCB bowling attack, leg-spinner Yuzvendra Chahal is the only bowler who seems to have his rhythm going.
As he continues to spin the web in every match, he was the only RCB bowler to have claimed a wicket in the one-sided loss against SRH.
Consequently, once again, he would be the bowler his side would rely on.
Will this English all-rounder finally drive RCB home?
RCB's start in the IPL has gone all wrong so far.
As their batting and bowling continue to be shaky, all-rounder Moeen Ali has done a fair job so far.
Although he did not claim a wicket against SRH, he was one of the economical bowlers for the side.
Furthermore, he has been in a delicate touch with the bat, thus getting our backing.
Has RCB ever won the IPL?
Asked 2019-04-02 15:48:03 by Abhinav Tata
Answered by NewsBytes
No, RCB are yet to win the IPL.
Who is RR skipper this season?
Asked 2019-04-02 15:48:03 by Muhammad Sarin
Answered by NewsBytes
RR are being led by Ajinkya Rahane in IPL 2019.
Will Ab de Villiers play against RR?
Asked 2019-04-02 15:48:03 by Ridhi Vyas
Answered by NewsBytes
As of now, it seems likely that Ab de Villiers would play against RR in IPL 2019.
By what margin did RCB lose against SRH?
Asked 2019-04-02 15:48:03 by Charvi Mukopadhyay
Answered by NewsBytes
RCB lost by 118 runs against SRH in IPL 2019.