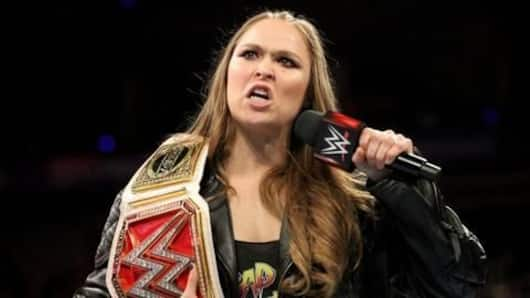 Possible feuds for Ronda Rousey if she stays post WrestleMania
Ronda Rousey is one of the top female superstars in WWE today.
As of now, she is set to defend her Raw Women's Championship against Becky Lynch and Charlotte Flair in a triple-threat match at WrestleMania 35.
However, there are rumors that she might leave post WrestleMania.
Nonetheless, if she decides to stay, the following are the feuds we can forward to.
The Baddest Women on the Planet against The Man
Although they are to feud at WrestleMania this year, with Becky likely to win against her, it seems unlikely that the feud would be over post WrestleMania.
Ronda is one such woman who does not like to lose, and it is even more unlikely that she would give up on Becky so easily.
Thus, we expect the feud to continue post WrestleMania.
Love Sports news?
Stay updated with the latest happenings.
Yes, notify Me
Do it with Flair!
Charlotte was already in the hate list of Ronda following the brutal bashing the latter received at Survivor Series 2018.
Her inclusion in the Championship match at WrestleMania has made things even worse.
Thus, there would be no better feud for Ronda after WrestleMania than to go after Charlotte.
Also, if Charlotte wins at WrestleMania, the feud is inevitable.
MMA vs Bodybuilding
Dana Brooke was the first person to confront Ronda following her heel turn.
The two were also involved in a fight for the Championship.
Although the match did not last long as Dana tapped out quick, Ronda continued her resilient attack on Dana even after the match.
Moreover, Dana comes from a bodybuilding background and is as strong as Ronda.
Therefore, a feud awaits.
Is Ronda ready for Asuka?
A dream feud which might happen post WrestleMania.
Both the women are likely not to be the champions post WrestleMania.
Ronda might not get a direct rematch for the Women's Championship, and she might have to go through Asuka.
Asuka was the former SmackDown Women's Champion, before losing to Charlotte last week.
But the question that all would wonder, is Ronda ready for Asuka?
Is Ronda better than The Glamazon?
The WWE fans were happy to see the return of former Women's Champion and Hall of Famer Beth Phoenix.
While she would be involved in tag-team action, along with Natalya, at WrestleMania, she could pursue singles career post WrestleMania.
Ronda, being a heel, is likely to run her foul mouth, claiming that she is better than everyone, leading to Beth challenging her.
When did Ronda join WWE?
Asked 2019-04-02 19:38:27 by Arnav Trivedi
Answered by NewsBytes
Ronda joined WWE in 2018.
When did Ronda win the RAW Women's Championship?
Asked 2019-04-02 19:38:27 by Ananya Lobo
Answered by NewsBytes
Ronda won the RAW Women's Championship at SummerSlam 2018.
When is WrestleMania 35?
Asked 2019-04-02 19:38:27 by Navya Dutta
Answered by NewsBytes
WrestleMania 35 would be held on April 7.
Who dis Ronda face at WrestleMania last year?
Asked 2019-04-02 19:38:27 by Aanya Mistry
Answered by NewsBytes
Ronda was involved in a mixed-match tag-team match, along with Kurt Angle, against Triple-H and Stephanie McMahon at WrestleMania 34.