IPL 2019- Who is a better captain: Dhoni or Rohit?
Sports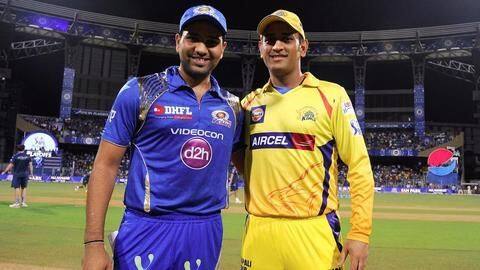 The 2019 Indian Premier League is off to an interesting start, with several teams looking capable of lifting the title this term.
Tonight we would witness the clash between the two most successful franchises of the league, Chennai Super Kings and Mumbai Indians.
MS Dhoni and Rohit Sharma are two of the most experienced captains in IPL as we draw a comparison between them.
Dominant Dhoni
Dhoni is the true 'King of IPL'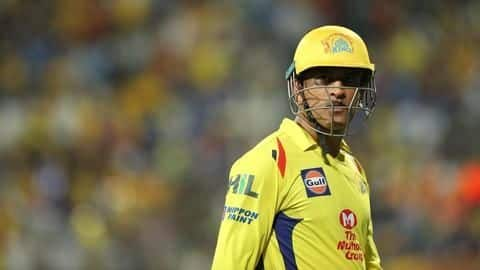 While Dhoni is the most experienced captain in the IPL, having played the most number of matches as the skipper, he also has a better winning percentage compared to Rohit.
Out of 148 matches as CSK's captain, Dhoni has won 92 and lost 55.
As for Rohit, he has won 52 matches and lost 39 out of 92 matches, in which he has led.
Captain vs Player
Dhoni excels as captain, Rohit as a player
Notably, Dhoni has led two IPL sides. He has a batting average of 43.27 as CSK skipper and 31.89 as a player.
As for stats with Rising Pune Supergiant, he has a batting average of 40.57 as the skipper and 41.27 as a player.
While for Rohit, he has a batting average of 30.94 as MI's skipper and 32.91 as a player.
T20I captain
Dhoni has won more tosses and matches as T20I captain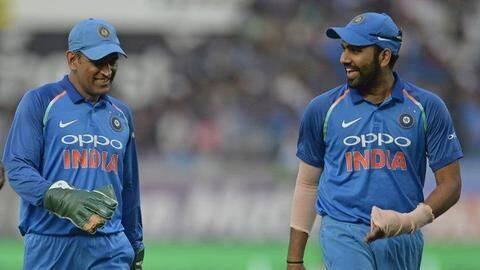 In comparison, in T20Is as captain, Dhoni has far more experience of leading a side.
While Rohit has led India in just 15 matches, with 12 wins and three losses, Dhoni has guided India to 42 wins and 28 losses, including the famous ICC T20 title in 2007.
Further, in an interesting stat, Dhoni has won more tosses (47.22%) than Rohit (46.67%).
T20I player
Rohit at par with Dhoni as T20I player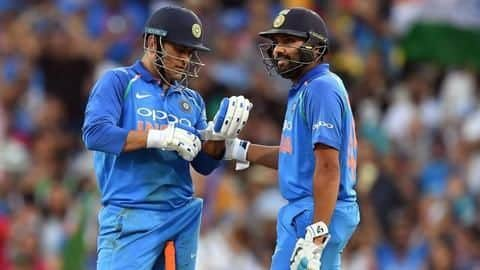 Considering their performance in T20Is as players, while Rohit has scored more runs than Dhoni, he is marginally below him.
Rohit has an average of 32.38, whereas, Dhoni's average is 37.60.
On the other hand, Rohit has a better strike-rate of 137.60, compared to Dhoni's 126.13.
Rohit, being an opener, has more centuries and half-centuries (six and four) compared to Dhoni (zero and two).
Timing matters
Rohit's success with MI has taken lesser time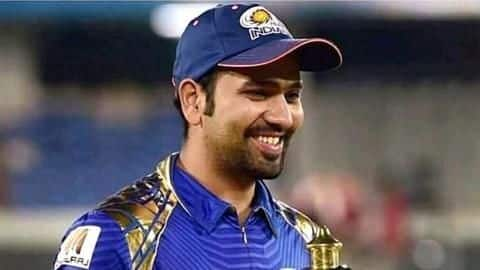 Although Dhoni has led CSK to the knock-out stage on all nine occasions the team has played, they have managed to play the final on seven occasions and won thrice.
As for Rohit, he has been leading the side since 2013 and had won the title in his debut season as captain.
Further, he has led MI to three titles in just six seasons.
Personal
What's next for Dhoni and Rohit?
The primary target for the two would be to win the fourth IPL title for their side, which would make the skipper the most dominant one in the tournament. Nonetheless, despite the fourth title, Dhoni would still be miles ahead of him in other departments.

Pari Tata
Asked on 3 April, 2019
When did CSK first win the IPL?

Answered by
NewsBytes
CSK first won the IPL in 2010.
Trisha Pawar
Asked on 3 April, 2019
When did MI last win the IPL?

Answered by
NewsBytes
MI last won the IPL in 2017.
Surabhi Jain
Asked on 3 April, 2019
Who was the first captain of MI?

Answered by
NewsBytes
Sachin Tendulkar was the first captain for MI.
Aaryan Banerjee
Asked on 3 April, 2019
Where will IPL 2019 final be held?

Answered by
NewsBytes
As per IPL norms, the IPL 2019 final will be held in Chennai since CSK is the defending champion.